2020 Holiday Gift Ideas and Buying Guide – Favorites for All Ages
Disclaimer: Beautiful Touches received some items from the brands below, to help facilitate this Holiday Gift Ideas and Buying Guides Page.  No monetary compensation has been exchanged.  All opinions are those of the authors.
Welcome one and all to the
2020 Holiday Gift Ideas and Buying Guide – Favorites for All Ages
My go to for clothing for the most special moments in my grandchildren's lives!
Info From Feltman Brothers
About Feltman Brothers: Since 1916, Feltman Brothers has been providing the world with authentic and timeless clothing for babies. This reputation is the result of a strong commitment to quality, incomparable fabrics, exclusive designs, and attention to detail. Feltman Brothers designs reflect the elegance of vintage styling for children from newborn through toddler, for all needs and occasions. Feltman Brothers' use of embroidery is a skilled craft and trade, with workmanship that has no equal. Feltman Brothers has been a family business for over 100 years.
Learn More, Follow, and Shop Feltman  Brothers: Website | Facebook | Twitter | Instagram | Pinterest
This may just be one of my all time favorites this holiday season.  I cannot wait for all my gift wrapping to be done so that I can clear off my table and proudly use and display my Bless This Food Rustic Wood Planter Box – Family Table Centerpiece! Also popular are their Unplug Boxes and Memorial pieces.
Info from Cades Birch
Welcome to Cades & Birch! We offer a handcrafted collection of customized gifts and home décor in a variety of styles.

Vista, California

One Etsy since 2017
If you asked for a show of hands for who ALWAYS drops food on themselves when out at a restaurant,  I'd have to wave both arms in the air. With DinerWear, my clothes are always protected, and I look fashionable at the same time!
Info from DinerWear
"Adults don't want to wear bibs." DinerWear offers an elegant, discreet alternative with the Cravaat-a fashionable dining scarf that preserves your dignity while it protects your clothes. Stain resistant. Machine washable. Made in USA.
Learn More, Follow, and Shop DinerWear: Website | Facebook | Twitter |  Pinterest | YouTube
I'm always amazed at how beautiful the jewelry from Isabelle Grace is, and their prices don't break the bank.  For example, this Letter Bead Bracelet. Affordable, high quality and great service.  
Info From Isabelle Grace
We make simple, beautiful, elegant pieces inspired by the most important things in life. Family, children, love, marriage. Our jewelry celebrates life. Your life and what your about. We make jewelry that people connect with.

Fashion should be fun because life is just too short for boring and we definitely think everything is more fun when it's personalized. Our Letter Bead Bracelet in marbled white howlite sets a classic tone for your bracelet stack.   So fun to create your bracelet stack with a personalized piece!

Made with powerful stretch cord and high quality 4mm plated beads and genuine 6mm howlite beads.  Initial charms are plated – Silver / Gold / Rose Gold.

To keep your bracelets looking the best avoid wearing them in water or exposing them to chemicals (including lotions and perfume, spray, etc…)
Learn More, Follow, and Shop Isabelle Grace: Website | Facebook | Twitter | Instagram | Pinterest
Four generation trivia game…who will come out on top?  Boomer, Gen X, Millennial, & Gen Z. Your guess is as good as mine!

Info From Solid Roots about Mind The Gap
In Mind the Gap, teams race around the board answering pop culture trivia through 4 generations: Boomer, Gen X, Millennial, & Gen Z. The team that makes it around the board first is crowned the Greatest Generation!

Chances are, lots of shenanigans! When you run a business with your family, that almost has to be the case, right? Actually, we love working together and honestly, it's part of the magic of Solid Roots. Here, we value family. It's who we are and it's what we do.

We are on a mission to create unique content, products, and experiences that bring you closer to your people. We want your friends to become your family and your family to become your friends.

Having solid roots is about connection to something deep and meaningful. Over the years, we have found that some of the most profound moments of connection with our own friends and family came through fun and whimsical experiences we shared. The perfect gift, an unexpected party, a long-anticipated vacation… these became the memories that defined the days and years. Yes, they take time and energy to plan, but they are wonderfully worth it.

We created this company because we think having fun and being together is important. We're here to help you celebrate life, and each other, well.
Learn More, Follow, and Shop Mind the Gap (and other games) from Solid Roots: Website | Facebook | Instagram | Twitter
Wonderful holiday interactive boxes, that come with accompanying audio for the musicals, are shipped right to your door. This is soooooo up my alley.  Our children grew up immersed in music and art, and I wish that for my grandchildren and great grandchildren!
Info From Play On!
Play On!

New screen-free musical adventures from our artists with everything your child need to join in the fun at home.

Encourage inventive storytelling and creative play.

Listen to the Show.

Jump, Dance and Roll!

Imaginate with our Storytelling Kit.

Twinkle's Musical Journey"Amber Dickerson (Book),Nina Meehan (Concept, Book) Austin Zumbro (Book, Lyrics), Daniel Mertzlufft (Music, Lyrics), Khalia Davis (direction) and Christina Larson (Illustration).

The Ice Cream Factory Fiasco" Nina Meehan (Concept, Book), Amber Dyson (Book), Austin Zumbro (Book, Lyrics), Daniel Mertzlufft (Music, Lyrics), Khalia Davis (direction) and Christina Larson (Illustration).

Mission

To inspire young audiences with imaginative productions, introduce children of all backgrounds to the excitement of live theatre, and create an engaging, entertaining, and educational environment in which children and their families can explore and enjoy the arts.
Bay Area Children's Theatre (BACT) was founded in 2004 as Active Arts Theatre for Young Audiences to bring high quality theatre to family audiences in the Bay A

rea. We specialize in literary adaptations of great children's books. Through challenging and exciting productions that emphasize artistic excellence, we seek to engage a new generation of theatergoers and inspire young people to open their imaginations to new worlds. BACT is a 501(c)3 non-profit organization.
Learn More, Follow, and Shop Play On!: Website | Facebook | Twitter | Instagram
Made with all natural ingredients, and gosh, they smell so great! Incense and holders, candles, skin care for men and women…7 scent collections.
Info From Sea Witch Botanicals
Hello Friends!

Sea Witch Botanicals is a family business owned by Alesia and her husband, Jhustin. We created this company to give alternatives to insidious synthetic fragrances and damaging detergents. What goes on your skin, gets into your body, and goes into our waterways. We want to keep these awful hormone disruptors out of our lives in every aspect, so we invite you to try our soaps, incense, tonics, tinctures, salves, and balms.

We seek to offer natural and ethical alternatives to the home and body products on the market today. We source fair trade ingredients where necessary and opt for non-GMO and organic ingredients as needed. Our products are crafted using purchased green energy; wind, solar, and other sustainable energy alternatives. We even took it upon ourselves to install solar panels on our home!

Feel free to reach out with any questions and come visit us in person at the shows we attend.

Nature Misses You.
Learn More, Follow, and Shop Sea Witch Botanicals: Website | Facebook | Twitter | Instagram | Pinterest 
A gift that will keep on giving…to the recipient and the environment.
Info From Envirosax
You've heard all about "Going Green" in the last decade. You may carry your reusable bag wherever you go, or you may be entirely new for this change. Everyone is at a different stage in the "reusable walk," – and we get that.

Envirosax has been the leader in the reusable bag industry for 15 years – actually nearly 16! That was before a journalist once coined the phrase, "Going Green", before governments realized plastic in the oceans was causing harm to marine life and before recycling bins were even a thing. Hard to imagine? Well, we have come a long way.

But one thing is constant, and that is Envirosax's quality. The founders are still using the same bags from the original batch run of prototypes! Our bags are made to last and to replace 1500 plastic bags per year. We do not compromise on quality and still follow the same formula we did 16 years ago with quality fabric and stitching, printed with eco-friendly dyes.

Oh, and we do not believe in "Fast Fashion". We know who makes our bags, we are transparent in our factories and we pay our workers a fair wage. This is one aspect of the fashion industry that we are passionate about. Envirosax is something that you can feel good about in so many ways.

It's all about you. But it's also about the environment. If we can help you to reduce waste and plastics that are destroying the environment, then we know we have done our job.

With over 15 years in the eco-industry, the team behind Envirosax understands better than anyone how harmful plastics are to the oceans. And we once set out to fix this problem – in the most stylish way!
Learn More, Follow, and Shop Envirosax: Website | Facebook | Instagram | YouTube
Anyone who knows me well, knows that I am a sucker for stationary, notebooks and planners.  When I found out about Archer and Olives Watercolor Notebooks, I was over the moon with excitement! They also carry planners, pens, marker, stickers and more…happiness at your fingertips.
Info From Archer and Olive
Unleash your inner artist with our luxurious spiral-bound Watercolor Notebook, featuring 120 pages of the highest quality hot pressed watercolor paper that lays perfectly flat when opened.

Intentionally designed to withstand even the heaviest watercolor paints, our Watercolor Notebook is made with 200 GSM Paul Rubens Premium White watercolor paper. It isn't the same bright white shade as our signature dot grid journals but it's a crowd favorite among our A&O community.

Because of the very light texture, you can use a variety of watercolor brush and pen options including your favorite felt-tip pens, brush pens, and more. It even works well with a lot of water

If you share our obsession for pretty paper goods, intentionally designing your days, and creating margin in your life, we'll be fast friends! At Archer & Olive, we create handcrafted journals and planners that help you plan your days with intention.
Learn More, Follow, and Shop Archer and Olive: Website | Facebook | Instagram | Pinterest | YouTube
Perfect for home or on the go.  No need to drag on the iron and ironing board!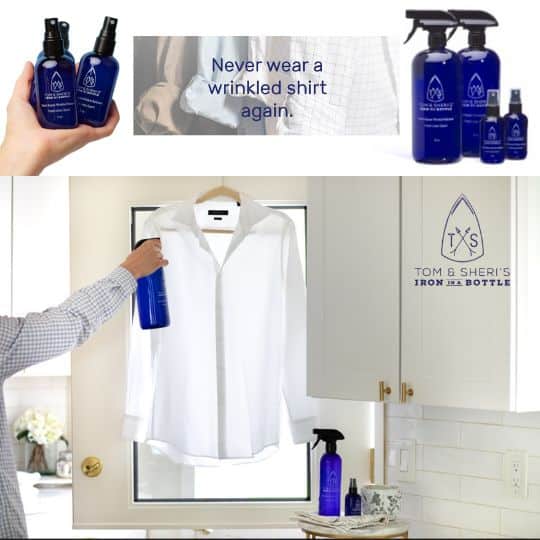 Info From Iron in a Bottle
Years ago, my mother, Sheri, gave up on ironing and introduced me to a homemade wrinkle releaser. It was a game changer. No more irons, no more hassle, and, best of all, no more wrinkled clothes.

In 2017, I set out to share the magic with the world.

The goal? To make a modern wrinkle releaser that worked, smelled great and was natural. I named the company after my parents because they inspire me every day.

After testing multiple formulas, scents, and natural solutions for wrinkles, Tom & Sheri's "Iron in a Bottle" became a reality. Ironing is from the Dark Ages. Join the

#wrinklerevolution

to save time, feel better about the clothes you wear, and live your life

#wrinklefree

.

-Austin Eudaly
Founder of Tom & Sheri's "Iron in Bottle"
It's life having an extra hand in the garden!
Info From Seca Hose Holder
Garden smarter with the hands-free SeCa Hose Holder! Designed and made in Texas from American Steel, it's the perfect garden tool for your home & garden!

Our revolutionary SeCa Hose Holder™ lets you perform virtually any hands-free and hassle-free application or scenario you can imagine while using a water hose!

If you've ever wondered if there was a better way to use a water hose, then you have came to the right place!

We're Mark & Seth, the father and son inventors of the SeCa Hose Holder™ and we want to give you a helping hand whenever you need one the most!

Designed and crafted in Texas from high-quality American Steel, the SeCa Hose Holder™ will quickly become be your new favorite garden tool! We're confident you will love and enjoy the added convenience the SeCa Hose Holder™ will add to your life!
Learn More, Follow, and Shop SeCa Hose Holder: Website | Facebook | Instagram | Pinterest