2020 Summer Fun Summer Travel Gift Ideas and Buying Guides
Disclaimer: Beautiful Touches has received products or services to facilitate this Gift Ideas and Buying Guide, from some of the brands listed below.  No monetary compensation has been exchanged.  Any opinions stated are those of the authors.  We are grateful for all submissions to our 2020 Summer Fun  Summer Travel  Gift Ideas and Buying Guide
Welcome all to the 2020 Summer Fun Summer Travel Gift Ideas and Buying Guides
RIO Brands – Rio Beach
When you think beach…you might just think about all the stuff you have to haul with you.  Or maybe you're thinking about sun protection.  Keeping your food cold on hot summer days? Rio Beach has you COVERED!
From RIO Brands
Capture the Spirit of good times and relaxation at the beach and at home with RIO Brands' beach and outdoor furniture.

A 70 year old family business, founded in 1947, we believe in bringing fashion and quality to beach and backyard furniture. We focus our efforts to translate high-end designer looks in ready-to-wear and sportswear into trend-right fashions that work for outdoor and beach furniture. Teams of designers and trend analysts are always on the hunt for next season's color, fashion statement or eye-catching icon.

We develop products that are innovatively and accurately aligned with what we know people want to buy. Since its inception, the company has been committed to service, quality and innovation. We are innovators and build our products to the highest quality standards in the industry. In addition to our core brands; Rio Beach, Rio Creations and Rio Gear, we also manufacture and distributes outdoor furniture for the Tommy Bahama and Jimmy Buffet's Margaritaville brands.
Learn More, Follow, and Shop RIO Brands: Website | Facebook | Twitter | Instagram | Pinterest | YouTube

My daughter-in-law and I are had so much fun attending Lolly's Cookie Camp.  Just take a look at what we accomplished!
From Lolly's Cookie Camp

Info from Lolly's Kitchen
Sharing the joy of cookies with the world! We offer cookie decorating classes, customs, and seasonal presales.

🍪 Get access to the most FUN cookie workshop and last course you'll ever need to bake and decorate AMAZING, professional-looking cookies! 🤩

Wow everyone you know, delight your family and your tastebuds, all while doing something you love! 💖
Learn More, Follow, and Sign up to Get On The List: Website | Facebook | Instagram
Goodtimer…for Better Behavior
Info from Goodtimer
Goodtimer is an educational toy backed by neuroscience that encourages kids to form awesome habits using positivity, tangible incentives, and family participation.

We are committed to helping parents by incorporating widely accepted positive parenting methods into innovative products that are effective, safe and fun for the whole family. Our patent-pending product, Goodtimer is a new consumer electronic device that has been developed in collaboration with leading child development experts to help parents raise children who are respectful, responsible and independent while building their self-esteem.
Learn More, Follow, and Shop Goodtimer: Website | Facebook | Instagram | YouTube
Summer fun at some time or another, usually means water fun…at the pool, the seaside, or lake shore.  SwimWays has so many fun products for young and old alike, and can be found at many local retailers like Amazon, Target, Dick's Sporting Goods, Academy, and Bed Bath & Beyond! I can't wait to use the Spring Float Recliner, on a girls weekend down the Rainbow River! Floats, pool toys, beach chairs, and swim training…a one stop shop for water fun.
Info From SwimWays
Swimways, a division of Spin Master, Inc takes fun to the next level! Our products are designed for water lovers, by water lovers. We offer products for your entire family – even the dog! We want the pool to be where your family and friends can splash, relax and be together.

We know that some of the best times with your family are in the pool – one of the few places where you can completely disconnect from real life; it's like a mini-vacation! Mom and dad play with the kids, kids play with their friends, and most importantly people focus on each other. No computers, smartphones, tablets or TVs!

At SwimWays we provide your water family with water toys, pool floats, pool games, swim training gear, pool decorations and more, turning an ordinary day into a water-full day. Products you may already be aware of include our Spring Float® line, Toypedo®, Sea Squirts™, and Rainbow Reef®. Our exclusive partnership with Disney® and Marvel® brings you pool toys and floats featuring classic characters such as Disney Princess, Minnie, and kid-favorites like Iron Man and Monsters Inc.
Learn More, Follow, and Shop SwimWays: Website | Facebook | Twitter | Instagram 

A glorious line of hair care that is great for your hair and scalp. Don't let the harsh summer sun or chemicals in pool water, or salt from the ocean, wreak havoc…try SH-RD. And for the shiniest ever head of hair, my favorite is the Nutra Therapy Shine Serum!!!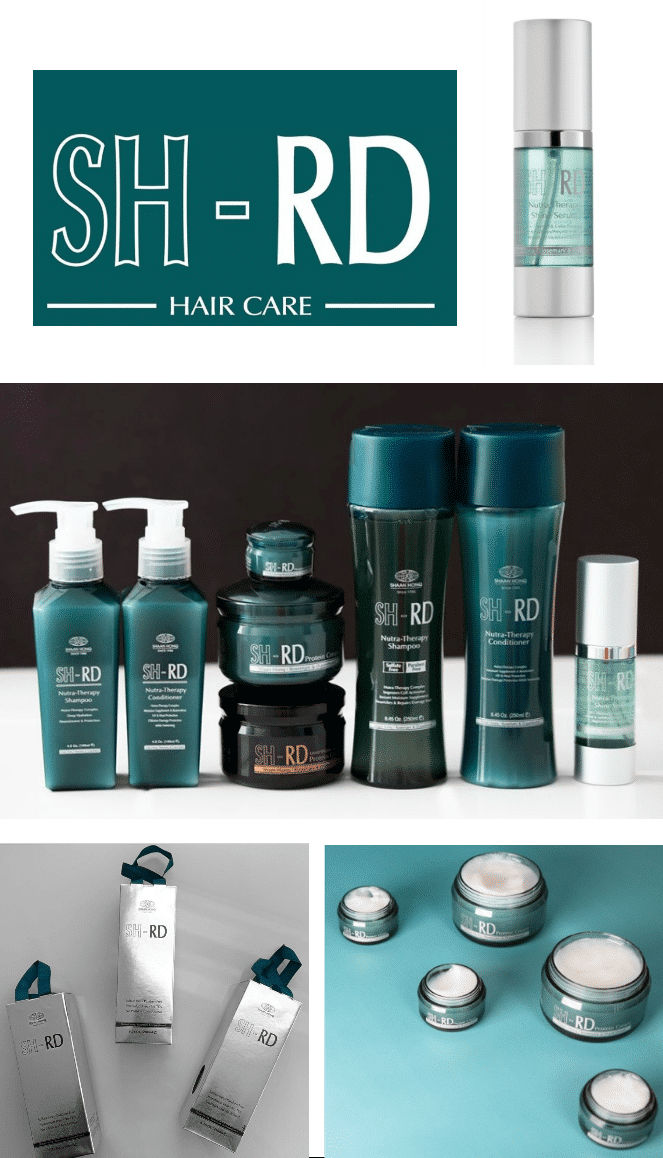 Info from SH-RD
Every women dream about having a glamourous silky hair . Like the feathers of a swan. SH-RD will allow you to own your own unique piece of pure and feather-like light and smooth hair just like swan's beautiful feather.

Enriched with herbal Rosemary, SH-RD is a series of products that addresses hair that has been damaged by environmental factors, daily life stresses and chemical services. By in-fusing hair with natural herbal rosemary, multi-vitamins and others, this series of products help provide nutrients to damaged shafts, repair damaged hair and restore lifeless hair back to health.

Thus, SH-RD Hair care Line is the ultimate product you just can't live without.
Learn More, Follow, and Shop SH-RD Hair Care: Website | Facebook | Twitter | Instagram | YouTube
Ding Dong, ding dong, ding dong…all day long during the summertime.  But, is it the neighbor kids at the door again, or a delivery of something important?  You can easily tell with the AI Battery Powered Security Camera from Vacos. Wireless for easy installation, and can be accessed via your Smart Phone – wherever you are!
From  Vacos
With the cutting-edge AI & full color night vision technology, stunning video quality, fast live streaming, cloud storage, and other impressive features, Vacos provides customers worldwide with the easiest smart home solutions, aiming to build a smart and helpful home for everyone.
Learn More, Follow, and Shop Vacos : Website | Facebook | Twitter | Instagram | YouTube

Wool..in SUMMER?  Yep, it works both ways.  It can keep you warm in the winter, but also works great for summer time.  Just right for hot weather when used as a light weight item of clothing, since it's such a "breathable" fabric source.Ridge Merino offers high quality garments for men and women. "The Ridge Summer 2020 Collection is here. Check out the return of familiar favorites as well as new cuts, colors and styles." A lightweight hoodie is perfect for high altitudes at night…and in the South – it offers great protection sun exposure, and from mosquitoes… without causes heat stroke for the wearer!
From Ridge Merino
Ridge Merino® uses Merino wool and other natural fabrics to develop clothing that performs as well in daily life as it does in the wildest outdoor conditions. Every purchase gives back through our partnership with 1% for the Planet.

Located in Mammoth Lakes, Calif., Ridge Merino develops premium Merino wool base layers, mid layers and accessories that perform as well in daily life as they do in the wildest outdoor conditions. Ridge is a proud member of the organization 1% For the Planet, a global movement of companies donating at least 1% of annual sales to environmental nonprofits.

Merino wool is the gold standard in terms of athletic performance apparel – noted for its breathability, warmth and comfort. The complicated structure of Merino wool regulates body temperature by absorbing and wicking moisture away from the skin and the fibers trap air to insulate more efficiently. This natural "climate control" means Ridge baselayers insulate when it's cold and let heat escape when temperatures rise. Also, its antimicrobial qualities resist the growth of bacteria that cause body odor, allowing the wearer to feel fresher longer. All this occurs naturally, without the use of chemicals. Wool is an entirely natural, renewable and biodegradable fiber.

Unlike the coarse, scratchy feel of traditional wool, Merino sheep produce much smoother and finer fiber. The finer the wool, the softer it feels against your skin, like a very soft cotton. Ridge Merino premium wool comes from Merino sheep raised on the natural grasslands of Australia and New Zealand and is sourced from certified-humane Merino farms.
Learn More, Follow, and Shop Ridge Merino:Website | Facebook | Twitter | Instagram | YouTube
Super fun, super soft, super great SOCKS that not only feel good, but do good!
From Society Socks
Bold Socks with a Social Cause!

Socks are the least donated, but most needed clothing item. Since homeless shelters only accept new socks, it's much more difficult to donate them compared to other used clothing. Society Socks will change this.


Society Socks is all about fostering a community of people that care about each other's well-being. A gesture as small as donating one pair of socks leads the way to a better society. A pair of socks is a small stepping stone towards greater change. All we need to do, is set the gears in motion.

As young and aspiring entrepreneurs, we realized that one of the most effective ways to drive change is through social entrepreneurship. From this, the Society Socks pair for pair model was born. With every pair of socks that is purchased, we will donate a pair to the Covenant House Toronto, an organization helping the city's homeless youth. Let's change the world together.
Learn More,Follow, and Shop Society Socks: Sock Subscription from Society Socks| Facebook | Twitter | Instagram | Pinterest
Spend some time with your kids, by planting a Children's Herb Garden.  Or maybe you would prefer to spend a little time on your own with an Herb Grow Kit, or an Indoor Cocktail Garden (with Mint, Thyme & Lemon Balm). My Garden Provisions makes it EASY.
From My Garden Provisions
My Garden Provision is an online store that provides garden supplies to your home…

…focused on bringing ease and simplicity to your home and garden. We hope you enjoy our products and spend more time outdoors having fun and doing what you love most!
Learn More, Follow, and Shop My Garden Provisions: Website | Facebook | Twitter | Instagram | Pinterest | YouTube
Pevonia Botanica – World of Wellness Skincare for Women and Men. Skin care is important year round, but I feel especially in the summer months. Pevonia provides an excellent selection of the highest quality products. One of my all-time favorites is their Myoxy-Caviar® Timeless Repair Serum.  Sign up for their monthly Spa Box Subscription, to try out great products at an AWESOME price!
From Pevonia
The leader in delivering natural skincare solutions to the finest spas and professional aestheticians worldwide, Pevonia® introduces a new addition to the Power Repair® Age Correction Line, the Rapid-Restore Neck & Chest Serum and Cream.

Scientifically formulated to deliver rapid, visible results, the Rapid-Restore Neck & Chest Serum and Cream was created as a solution to one of the primary aging concerns. As we start losing Collagen production in our early 20s, the area between the chin and lower part of the chest is quick to reveal the signs of aging and sun damage. It is one of the most neglected, yet most delicate, areas of the body. The neck, décolleté, and chest areas are easily affected by our nutritional choices, weight fluctuations, exercise habits, lack of sunscreen use, and even our sleeping patterns and positions.

Harnessing the power of a breakthrough blend of double peptides and key active ingredients, Pevonia's Power Repair Rapid-Restore Neck & Chest Serum and Cream delivers astonishingly visible results that improve with continued application. The 2-in-1, double pump system synergizes the action of a powerhouse serum and an ultra-repairing cream in a convenient, easy to use bottle, which is recommended for use by all skin types. Formulated for quick and easy absorbency, this revolutionary duo delivers maximum results for sculpting, tightening, and smoothing of the neck and chest.

The new Rapid-Restore Neck & Chest Serum and Cream joins the family of products in the Power Repair Age Correction Line. The collection includes such best sellers as the Hydrating Cleanser, Hydrating Toner, Age-Defying Marine Collagen Cream, and Eye Contour. To view the complete Power Repair Age Correction Line, visit

www.pevonia.com/power-repair

.

Ask your Pevonia professional about adding the Power Repair Rapid-Restore Neck & Chest Serum and Cream as an enhancement to your next Spa service. To experience Pevonia at a Spa near you, visit Find a Spa at

www.pevonia.com

.
Learn More, Follow, and Shop Pevonia: Website | Facebook | Twitter | Instagram | Pinterest | YouTube
"If you're having a hard time finding a quality hand sanitizer due to a growing shortage, we've got you covered (literally.)  Each hand sanitizer is created with two main goals in mind – to add an extra layer of protection and to replenish moisture loss. As a bonus, a microbial-fighting *essential oil is added to the custom formula. With each use, you can have confidence in knowing an essential oil is working in the background." You just cannot know how thrilled I am with these hand sanitizers…and I think that I may have fallen in love with Pas Encore Nommé.  The scent is luscious!
From Pink MahogHany
Meticulously crafted olfactory expression hand-blended by fragrance enthusiast and musician, Chavalia and formulated in small batches for exclusive, optimal enjoyment. A good fragrance calls; an exceptional fragrance whispers.

Chavalia was born a country girl, where time seemed to have no end. The air was pure, and berry bushes and pine trees were the outdoors' fragrance of choice. Although raised in a rural part of town, she always envisioned international travel and wondered what different parts of the world smelled like, until she had the oppprtunity to visit many of them.

Chavalia also enjoyed challenging herself on recognizing peoples' scent often undetectable to most of the household. She had the ability to correctly guess who'd been over to visit, simply by the scent left after they'd gone home.

Needless to say, her sense of smell is one characteristic that is definitely self-taught and sharpened over the years, so it's not completely surprising to most that as a musician, she not only create songs but 'scent music' as well – using notes that play harmoniously together; no matter how different.
Welcome to PM® Fragrances – where scent intrigue meets an unrestrained, uninhibited and unduplicated product.
Learn More, Follow, and Shop Pink MahogHany: Website | Facebook | Twitter | Instagram | Shop on Etsy
I'm absolutely fascinated by the technology behind these products. Smart Fabric! The socks are divine, and my husband immediately decided that the Compression Gloves had his name written on them.
From

SKIN-EEZ® Skincarewear®
Smart fabrics infused with cosmetic nutrients clinically proven to firm and slim.
Our mission at SKIN-EEZ® is to provide all women with quality products, skincare and health advice, and a community that supports women and healthy body image.

Michelle Moran is an established entrepreneur with more than 15 years of apparel industry experience and a recognized leader in promoting social causes through fashion. In 2007, recognizing the enormous potential for cosmetotextile applications in the North American apparel market, Michelle developed her newest line, – SKIN-EEZ® Skincarewear® — which uses patented microencapsulation technology to deliver natural cosmetic ingredients to firm, tone, and slim while wearing SKIN-EEZ®.Michelle's vision arrived from the experienced she had while wearing post surgery compression garments recommended by her doctor. Realizing how uncomfortable and painful the garments made her feel, she knew that the industry would benefit from cosmetotexiles. SKIN-EEZ® is changing the expectations that women have of their clothing by offering items — from post surgery undergarments that promote wellness, to everyday shapers, and active wear that contour and slim the body, while delivering moisturize onto the skin.
Learn More, Follow, and Shop SKIN-EEZ® Skincarewear® : Website | Facebook | Twitter | Instagram | Pinterest | YouTube