5 Kid-Friendly Breakfast Recipes to Try This Summer, is a guest posting written by Raj Karle
Growing up is not an easy task. Kids usually grow five to six times between the age of 2 to 18. You can notice several improvements in their height and weight during this age range. Then, the question is where does all this development come from? It originates from the meals and food that we consume three times a day. Breakfast, lunch, and dinner!
So, skipping any one of these three meals could affect the natural development of the body.
You may have frequently heard that a nutritious breakfast is an essential meal of the day, however, do you and your kid make time for daily breakfast?
Be sincere and start each morning with any of the kid-friendly breakfast recipes given below.
5 Kid-Friendly Breakfast Recipes to Try This Summer
Banana Chocolate Chip Loaf:
You can use brown mushy bananas to prepare this delicious meal. This banana bread is – eye-catching, moist, and filled with chocolate chips!
What are the ingredients?
Six ripe bananas (preferably soft and mashed)
Half cup melted butter
Half cup canola oil
One cup sugar
One cup brown sugar
Two eggs (preferably beaten)
One teaspoon salt
Two teaspoon baking soda
Four cups of flour
One pack dark chocolate chips
Procedure:
Step 1: First of all, preheat the oven to the temperature of 350°F.
Step 2: Blend the ingredients in baking soda. Then, add flour and stir until it mixes correctly. Don't let it get overmixed. Now, fill two greased bread pans 3/4 altogether and bake for an hour.
Step 3: These loaves usually freeze very quickly. Once cooled, wrap it in the plastic wrap and then aluminum foil.
Dressed-up Yogurt
Plain yogurt can get monotonous if you don't budge the daily yogurt routine from typical accouterments.
Let's check out this Summer-friendly way to freeze, mix-up, or top off creamy yogurt. It gets transformed into an entirely new healthy treat!
What are the ingredients?
Seven oz cup plain yogurt
One tablespoon Raspberry jam (or any other you like)
One teaspoon honey
Two tablespoons of roughly chopped Toasted almonds
Procedure:
Step 1: Take the required amount of yogurt in a bowl and mix all ingredients in it.
Step2: Take your spoon and go! That's it!
Note: You can add any nut combination or jam. Try colorful alternative by pairing pistachios with strawberry jam.
Crispy Quesadilla:
These healthy yet delicious quesadillas take a light, new kick with Granny Smith apples. The dish gets ready in just 5 minutes. It is an excellent snack to ruminate as you get going to the car.
What are the ingredients?
Some small slices of the Granny Smith apple
Two flour tortillas (whole wheat or regular)
Half cup finely grated cheddar
Procedure:
Step 1: Take one tortilla and sprinkle a uniform layer of cheese on it.
Step 2: Spread the small pieces of apple on the cheese and cover by the remaining tortilla.
Step 3: Store it in the microwave until the cheese starts melting or for about 30 seconds.
Step 4: Crisp for at least 1 to 2 minutes on both surfaces by using a large skillet. Cut it accordingly or into 5-6 wedges.
Yummy Frozen Fruit Smoothies: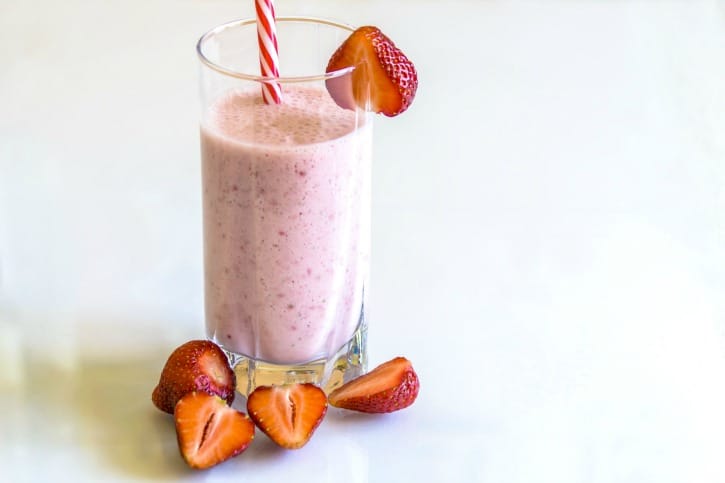 Try these creamy fruit-rich shakes that work as a refreshing drink during hot days. You can make these shakes within minutes. Simply use the available ingredients and get the required energy and nutrition in each satisfying sip.
What are the ingredients?
Half cup water
Half cup yogurt
One frozen banana (peeled and finely sliced)
One tablespoon honey to add further taste
Half cup orange juice (freshly squeezed)
Two cups frozen cherries, raspberries, or strawberries
Procedure:
Step 1: Mix all ingredients in a blender. Blend the mixture until you get completely smooth juice.
Step 2: You can get extra nutrition by adding two tablespoons of flax seeds.
A Great at to Make Whole Wheat Bread into Pop-Toast:
Eating sweet ready-made pastries is a kind of fun. You can prepare pop-toasts quickly, without adding artificial flavors or colors. Try this recipe in different taste combinations.
What are the ingredients?
Two pieces of whole wheat bread
One teaspoon of softened butter
Two tablespoon jam
Procedure:
Step 1: Take two pieces of bread and lightly spread butter on them.
Step 2: Now, put some jam on one piece of bread (over the butter.)
Step 3: Leave about a half inch of border around the edges. Then, put the remaining slice of bread on the top of other.
Step 4: Cut out the crust. Then, with the help of tines of a fork seal the pieces.
Step 5: Put it in the toaster. That's it!
That's all about the top five kid-friendly breakfast recipes. Do you have any other recipes in mind? Do not forget to tell us about it using the comment section below.
Author Bio: Raj Karle is an educational consultant. He also enjoys writing career guidance articles for the students.
You can follow him on: SmileTutor | Facebook | Youtube | Google+.
5 Kid-Friendly Breakfast Recipes to Try This Summer