6 Family-Friendly Fitness Tools Every Home Should Have
The best home workout equipment is the one that you use most of the time. Even if you bought the most reviewed and popular home workout equipment, if you don't use it then it doesn't do its purpose.
That's why the best home workout equipment is an environment where you are always motivated to do exercise. If you're resourceful, you can even turn home tools into workout equipment.
You don't need expensive gym equipment to do exercise. Getting fit and healthy can be done with low-priced equipment and even for free. However, if you want to get a great workout environment with a gym feel to keep you motivated, there are plenty of family-friendly fitness tools your home should have.
What Every Home Gym Needs
Depending on what area of the body you focus on, you require specific workout routine and fitness tools to do the job. Here are some of the most family-friendly and commonly used fitness tools at home.
1. Dumbbells
Dumbbells are probably the most popular and hugely associated fitness tool when working out. They're really popular because you can almost always use them for any type of workout routine. If you find a pair of adjustable dumbbells, these can save on space in your home. Plus, it allows the entire family to use the same set and adjust them for their own weight.
They're mostly used to build up muscle strength both in the upper and lower body. They're also flexible and don't require much space at home, unlike barbells.
2. Jump rope
You may think jump rope is easy or is only used by light workouts but you can actually use a jump rope for a lot more. Jumping rope is a simple whole-body exercise that gives great cardio workout. It also helps build up your muscle coordination on your feet.
If you're new to trying jump rope don't expect to hit the 30-minute mark. It's best to jump rope in between other workouts until you get used to it. Once you get used to it, you can add tricks or other jump rope routines for higher intensity.
It's also easy to store around the home and you can even have some quality time with your kids doing jump rope.
3. Yoga Mat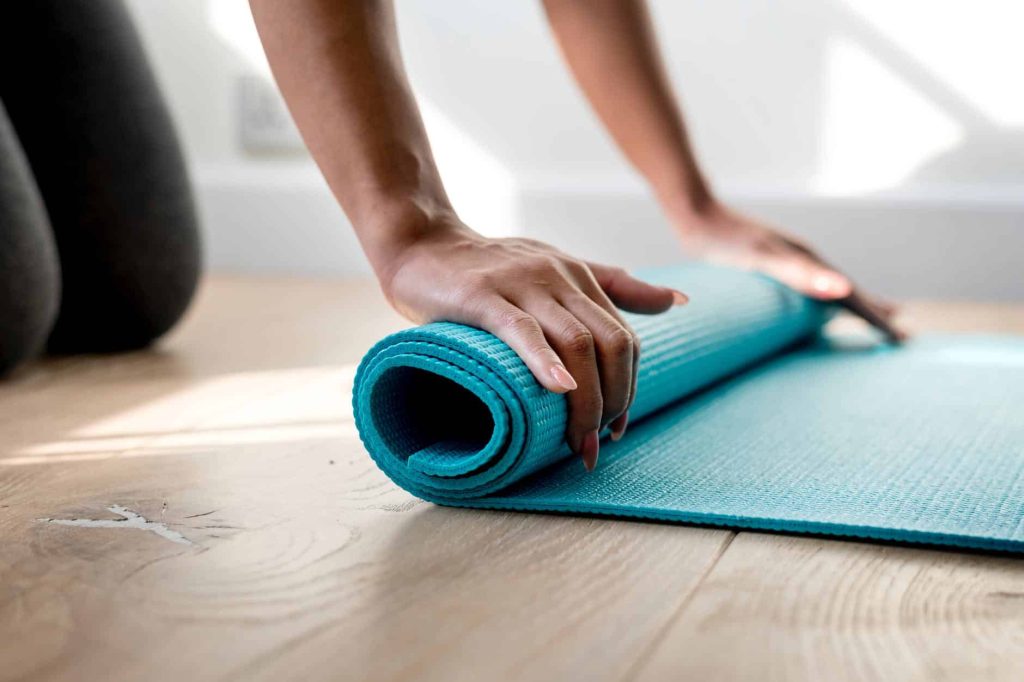 Yoga mats are very useful for home workouts. Just like how the best ethical yoga clothes for women in Canada can be worn elsewhere, these yoga mats aren't only for yoga poses and they're used to cushion your back. They can also be used for:
Stretching exercises
Ab exercises
Yoga mats work best on hardwood or solid ground, though you can also use them on some carpets. If you are doing a workout that causes you to sweat, yoga mats can help to absorb some of that and reduce your risk of slipping.
4. Kettlebell
A kettlebell is a great cardio workout fitness tool. It's also small and lightweight, making it easy to store around the home. Kettlebells look like a bell shape at the lower part with a handle at the top part.
Kettlebells vary in weight and design. There are even adjustable kettlebells too that you can change the weight. It's good for when you want to increase the intensity of your workout. You won't have to spend more when you want heavier kettlebells.
Kettlebells are mostly used for squats, shoulder presses, lunges, and swinging exercises. They're a great fat burner and helps boost your cardio.
5. Foam Rollers
After finishing your workout, your muscles may get sore and cramped. In order to prevent this, you can use a foam roller to relax your muscles.
You can also use foam rollers for stretching and balancing exercises. A foam roller can easily massage your back especially on high-intensity workout and lifting weights.
Most people tend to stop working out because they feel tired and their muscles are aching everywhere. Use a foam roller to keep your muscles relaxed and massaged for continuous workouts.
6. Gym Outfit
Just because you're at home doesn't mean you should slack off when it comes to proper gym attire. While not technically a tool, the clothing you wear while working out can make a huge difference in how effective your workout is. Take time to ensure each family member has workout clothing that is moisture-wicking and stretchy.
Conclusion
Working out at home can be very cheap and less of a hassle with these family-friendly fitness tools. Keep yourself motivated and live a better, fitter, and healthier life with home-friendly fitness tools at your hand.