Please note that we have received a planner from iBloom for review purposes only. I was not paid to endorse them. All the thoughts and words in this post are my own opinions.
I am a planner NUT.  I love anything that remotely resembles organization..
Not that I'm all that organized..it's a process!
On my planner journey, I'm tried many a planner…starting back when planners weren't all that popular.  Back when there wasn't Facebook, or Pinterest or Instagram… GASP – yep folks, I'm OLD! Back then, there wasn't a lot to choose from.  I think that I might have started out with a binder and planner inserts that I found at a small privately owned book store.  I don't even remember who made the insert or the binder.  It was a three ring binder, I think, with a zipper closed cover, that looked like it was needlepoint.  I'm sure at the time, it functioned well for me, or else I wouldn't have become planner addicted.
I've used the basics, like the Day-Timer, store brands, even dollar type store offerings.  During the last 8 – 10  years, I've had a couple Erin Condren's, MAMBI's, and DIYfish inserts.  Our oldest daughter is obsessed with Emily Ley, another like me, has used both Erin Condren and MAMBI planner.  Our oldest son has used a Stephen Covey planner for years, and another son is partial to the Passion Planner.
Today, I want to concentrate on telling you about the iBloom planner, in particular.  Over the next week or so, I'll tell you about a few other, so you can make a, hopefully, informed decision on what type of planner would be suited for you.
Although touted as a planner for home and business, one of my daughters used this planner for school. As a mom who is in college full time, she is busy busy busy. Not only is she going to college full time, she is also working full time AND homeschooling her 9 year old (with a little help from me:-).  She has a LOT on her plate.  She found the set up of the iBloom Planner to be perfect for her lifestyle.
About iBloom
Leading the way for women to succeed in business and life! We're a team of women who have led in business & ministry and have a heart to help Christian women in business live life differently. We work together to support you in becoming exactly who God has called you to be and living the unique, one-of-a-kind life that God has paved out for you! Our goal is to infuse your life and business with clarity, hope, encouragement, community, and the tools you need to be successful in business and live a life you love!
About the iBloom Planner
This isn't your typical calendar or appointment book. Of course it still has all of those features, plus SO much more. The iBloom Life & Business Planner acts as your personal coach – asking you the right questions to help you prioritize, set goals, and make a realistic plan for achieving them. We don't want you to just make it through another year, but instead, get that much closer to becoming who you really want to be and living a life you truly LOVE.
The iBloom Planner
It arrives in a well padded box and inside you'll find it beautifully wrapped in bright green tissue paper.
Can be purchased spiral bound, or as a printable version (great for those who like using a disc bound type of binder)
Inside of the Planner
The iBloom Planner is bright and colorful, has nice weight pages, lot of room for introspection, and the cover is very very sturdy.  Comes complete with a snap in – snap out book mark.  If you are looking for a planner for life and business, and like the idea of a Christian Faith Based Planner, then I think that the iBoom Planner is one that you should take note of.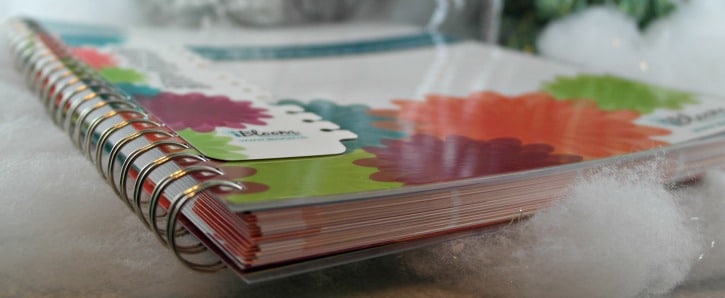 Download for FREE– a sample week to see if this planner fits your style!
Connect with iBloom: Website | Shop | Facebook | Twiter
What's You're Planner Style the iBloom Planner