Disclaimer: Beautiful Touches received product from Sweet Comb Chicago to facilitate this posting.  No monetary compensation was exchanged.  Any OPINIONS expressed are those of the author.
Sweet Comb Chicago…I was enchanted with the name alone, but let me tell you – I received a box of total goodness from them.  It was bursting with products the totally delighted my oldest daughter and I.  We were ooohing and aaahing as we removed one item after the next.  IMPRESSED to say the very least.
About Sweet Comb Chicago
Sweet Comb Chicago offers pure natural bee products made in small batches direct from our Rogers Park apiary.

We do it for the bees
It's difficult to know where to begin when considering the importance of bees, and the challenges these beautiful little creatures are faced with.

Unfortunately, even trace amounts of the chemicals contained in pesticides, over time, can be detrimental to a colony and may be a significant contributor to Colony Collapse Disorder.

Harmful parasites, such as mites, combined with chemical exposure, are greatly reducing the number of bees available to carry out their important function.

In addition to producing honey and beeswax, bees pollinate the plants that produce fruits, vegetables, and nuts worldwide.

While the population has been dwindling for years, the bee shortage is reaching alarming proportions. In fact, some experts predict a global food production crisis.

The situation has worsened and farmers have started "renting" bees to pollinate crops, paying beekeepers to put hives on their farms.

Join us and help us save the bees! Read the full story HERE
From the Queens Lavender Hand Cream – and oh my gosh, does this stuff smell awesome….
…to the Beeswax Candles – we were just thrilled with the quality.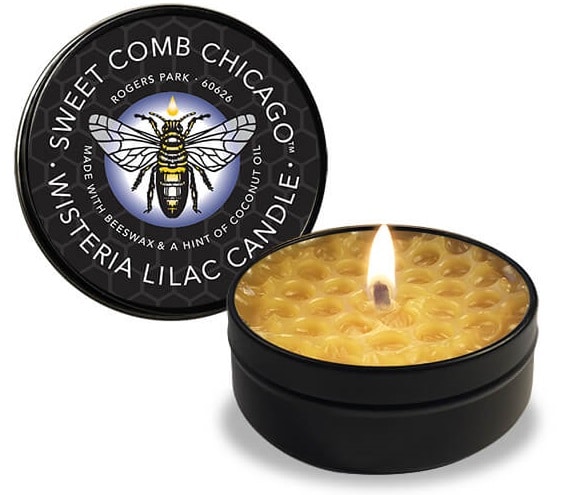 And my granddaughter was thrilled to bits with the t-shirts that were included.  She couldn't wait to put one on, and try out a lip balm!
Offering Men's Grooming Products, Body Care Products, Women's Products and Candles…I'm sold, but more than anything else, I was so thrilled to receive Sweet Comb Chicago Essential Dog Shampoo and Paw Protection Wax.  My dog Gabe means the world to me, and being able to take care of him with the best quality products…the means the world to me.  We live in Louisiana, where is is sweltering for the majority of the year. I don't take him out often simply because of the fact that the pavement is too hot for his paws.  With the Paw Protection Wax, he will be able to go out and about much more often now, which will make him a happy guy for sure!
I'm really so impressed with this company.  I'm a backyard farmer wannabe…I have a small flock of free range chickens, and I've wanted to begin building up a small apiary of my own.  I've known for years, the importance of bees, and would like to do my little part in helping to preserve and protect them.  I'll be a life long customer or Sweet Comb Chicago, now that I know of their existence, in fact, I just ordered some Tattoo Renew for one of my grandsons who is a budding Tattoo Artist!
Get something for your mom…or yourself…or maybe for dad!
Won't you join me by supporting a company that supports our earth…by Learning More, Following and Shopping:
I'm All Abuzzzzz for Sweet Comb Chicago