New Super Hero Sized Chewy Granola Bars
This shop has been compensated by Collective Bias, Inc. and its advertiser.  All opinions are mine alone.
#MARVELSnackBar #CollectiveBias
New Super Hero Sized Chewy Granola Bars

Children are back in school, and that means packing lunches and/or fixing afternoon snacks, for those hungry tummies.  ConAgra has a brand new product that should hit the spot – New MARVEL Chewy Granola Bars to the rescue. They are available in Peanut Butter and Chocolate Chip varieties. There are six different wrappers that your child will love:
Captain America
Hulk
Spider Man
Iron Man
Black Widow
Thor
On the back of each box you'll find one of four collector cards that your children will be sure to want to collect:
Hulk
Iron Man
Hawk Eye
Spider Man
We picked up some packages at Walmart on the aisle with the breakfast foods.
All the new Super Hero Snack Bars are 40% bigger based on weight of 24g chewy bars, to ease those hunger pains!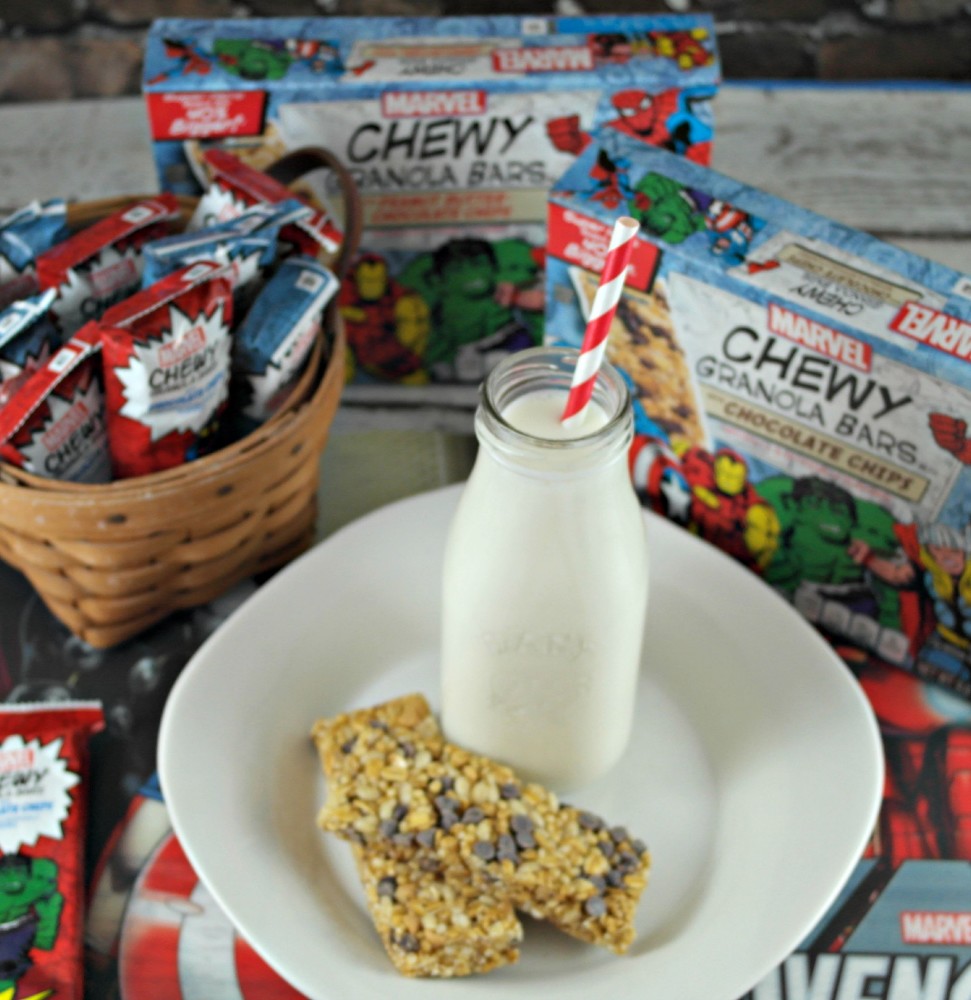 These individually wrapper granola bars are so convenient to have on hand. Keep in a basket on the kitchen counter for quick go to snacks, and toss a few in your purse or briefcase, because moms and dads get hungry between meals, too!
For something a little fun, add a little surprise to your child's lunchbox or backpack (or maybe as a handout at a party or for team snacking after practice). Make a cute decorated boxes that are the perfect size for a tasty treat!
Start with a piece of cardstock that measures 7 inches by 6 3/4 inches. Starting on the 7 inch side, score at 3/4 inch on each end.  Then on the 6 3/4 inch side, score at 3/4 inch, 2 3/4 inches, 3 1/2 inches, and at 5 3/4 inches.
Next cut small wedges on each end of 7 inch side as shown in the photo below.
Now, you should fold on each score line, and fold the small tabs inward. Place adhesive (double sided tape or glue) on outer side of tabs (See A on each tab).
After you've made a notch of sorts on one end, begin to close up box with tabs that have adhesive on them.

Now your box is made and you can decorate any way you wish.

Have fun and use puns!

So, do you think that you might give this a try? What flavor would your child like best – Peanut Butter or Chocolate Chip?  What fun pun can you think of using MARVEL?