Petal Fresh Cruelty Free + Smells GREAT
I received product from Petal Fresh in exchange for this review.  No monetary compensation was received.  All opinions are 100% mine.
Petal Fresh Smells So Great, You'll be Tempted to Eat It…
…But don't, because that would be such a waste.  Honestly, this is one of the best smelling lines I've come across. Not only does it smell great, but it works great too.
As important as those two factors are, I think that the fact that they are 100% Cruelty-Free is even more of a plus for me!
About Petal Fresh
The Petal Fresh brand was created on the principle that personal care products should be safe and just plain GOOD for you. That's why our products are never formulated with GMOs, sulfates, parabens, phthalates or color. Animal testing? Don't even think about it. We want our consumers to use our products with complete confidence, knowing that their Petal Fresh facial care, body, bath and hair products are made from the finest ingredients.
I was sent a number of products to try and they are all outstanding.  The Mango-Guava Body Lotion is to die for.  Smooth and rich, but does not leave any greasy residue.  I have very very sensitive skin and it has been wonderful.  Totally non-irritating.
Body Lotions:
Botanicals – Olive Oil
Botanicals – Aloe Vera
Botanicals – Fresh Cocoa Butter
Botanicals – Fresh Lilac
Botanicals – Wild Cherry Blossom
Botanicals – Mango & Guava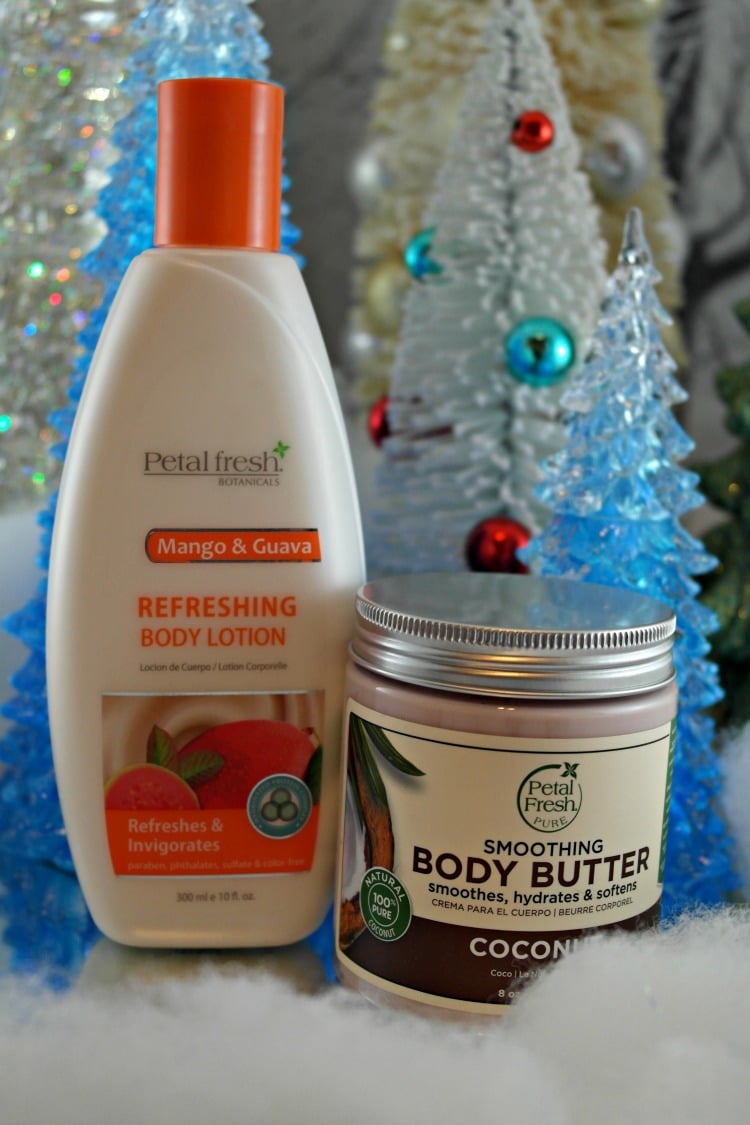 The Ultra Moisturizing Coconut Body Butter is like a day at the beach in a jar.  You can close your eyes and smell the salt air and feel the breeze blowing through the palm trees.  Thick and luxurious to the touch!
Body Butters:
Nourishing Pomegranate & Grapefruit
Perfecting Guava Nectar
Refreshing Mandarin & Mango
Restoring Honey & Coconut
Toning Hibiscus & Papaya
Ultra Moisturizing Coconut
The hair care line is fantastic.  Just what I needed! I have baby fine hair and it's chemically treated ( I have it highlighted every 6 – 8 weeks).  The Hair Rescue Formulas make is feel thicker and give it body and bounce!
Hair Rescue Treatments
Organics HAIR RESCUE™ Dandruff Control Shampoo
Petal Fresh® Organics HAIR RESCUE™ Ultimate Thickening Shampoo
Petal Fresh® Organics HAIR RESCUE™ Ultimate Thickening Conditioner
Shampoos
Age Defying Grape Seed & Olive Oil
Clarifying Rose & Honeysuckle
Color Protection Pomegranate & Acai
Moisturizing Aloe & Citrus
Nourishing Lavender
Scalp Treatment Tea Tree
Volumizing Rosemary & Mint
Petal Fresh Also Offers Body Washes, Massage Oils and Facial Care Products.  Cruelty Free – Works Great – Smells Great…and here's the kicker…YOU CAN'T BEAT THE PRICE!