Disclosure: This product was received from the Mr. Bar-B-Q for review purposes only. All thoughts and words in this post are my own and I was not paid to endorse it. I am only voicing my opinion about this product.
On you mark, get set, start your grill! It's getting close to that time of year when people everywhere will be outside on their grills, unless like me, you live in a hot climate where barbecuing is a year long event! Which is awesome, because my husband makes the most tender chicken, that I cannot live without. When grilling out, it helps to have great tools and accessories, cue Mr. Bar-B-Q!
About Mr. Bar-B-Q Products:
Mr. Bar-B-Q has more than 400 products within its core product assortment, including tools and tool sets, brushes, baskets, toppers, accessories and grill covers. Unlike other products, Mr. Bar-B-Q products can be used for charcoal, gas or electric grills.
I received several new items in the Mr. Bar-B-Q line up of products!
Mr. Bar-B-Q Kickstand Tools – No more worrying about setting down cooking tools on dirty side grill tops and/or outdoor tables…that are exposed to all kinds of grunge. The New Kickstand Tools are handy to use and they keep the surfaces that touch the food clean…With a "kickstand"! Each tool props itself up…how cool is that!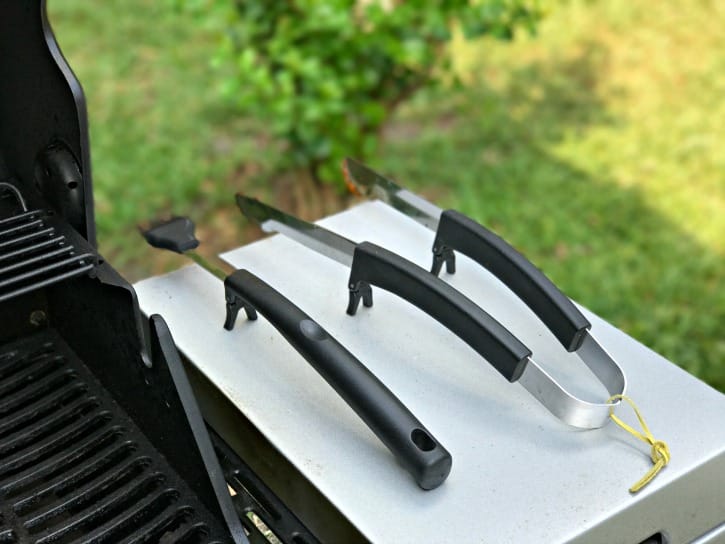 Hershey's S'mores Caddy, which is a cute box with handles that holds everything that's needed to make yummy s'mores:
Hershey's Chocolate Bars
Graham Crackers
Marshmallows
I am excited about the caddy because my oldest just started cub scouts this year, which means lots of camping. For the most part, I do not get too excited about this (as my kind of camping is staying at a chain motel instead of the Ritz), EXCEPT for the fact that s'mores are usually a staple at these events. YUM! With this caddy I will never accidentally leave the chocolate at home!
Mr. Bar-B-Q International Series Paella Pan
Grilling doesn't have to be limited to chicken breasts, burgers and hot dogs.  With the Mr. Bar-B-Q International Series Paella Pan, new recipes are easily prepared on the grill or stove top.  This pan is great for making traditional paella, seafood, rice dishes and more. It distributes heat evenly to your food and includes a non-stick coating for easy cleaning.
Great for bringing new flavors to your kitchen or your next barbecue. Available at TJ Max; $14.99.
Learn More and Connect With: Mr. Bar-B-Q| Facebook| Twitter|
Stock your grill with Mr. Bar-B-Q