Books for Mom for Summer Reading
Beautiful Touches has received copies of the books below, from the publishers or authors in exchange for sharing on our site.  No monetary compensation has been exchanged.  All information and images come directly from the authors or publishers. Elizabeth Neas (Libby) is a participant in the Amazon Services LLC Associates Program, an affiliate advertising program designed to provide a means for sites to earn advertising fees by advertising and linking to amazon.com
Great reads for mom's interests of all kinds including, crafting, hobbies, self-care, lifestyle, cooking the Royals and much much more! Here are some great reads covering many different topics.
Welcome to our list of Books for Mom for Summer Reading
Easy Does It  (Bank Street Stories – Book 1) by Brooke St. James
About the Book:
"Tess Cohen was a 23-year-old aspiring artist with dreams of painting beach scenes. She longed to leave the small town of Starks, Louisiana, and head for California to make a go of it as an artist. Instead, she compromised with her parents and decided to spend the summer of 1968 on Galveston Island with her younger sister, Abigail. It was just meant to be an extended summer vacation. Abigail would return to college in the fall and Tess would finally settle down for good in Starks. But then a chance encounter with 'Easy' Billy Castro changed everything. Billy had a troubled past and was orphaned at the age of 16. No stranger to conflict, he'd been using his natural talent for fighting to scrape together a living collecting debts for a local gambling organization. When boxing legend, Marvin Jones, finds out Billy has roughed up one of his fighters, he presents him with an opportunity to turn his life around. Thankfully, Tess also sees his potential and the love that grows between them that summer will only serve as a catalyst for his drive to become a world champion boxer. Brooke St. James unfolds this timeless story at a leisurely Texas pace, and Galveston Island serves as the perfect beach background in a love story that pulls out all the stops."
About the Author:
"Brooke St. James was born to write a love story. A USA Today bestselling author and Amazon Kindle All-Star with 2 million copies sold, Brooke writes contemporary romance novels with Christian and inspirational themes and happy endings. She was born and raised in south Louisiana but has had the opportunity to travel and live throughout the U.S. An avid reader, writer, audio book addict, and fan of all things artistic, she constantly has her hands in some creative activity. She has written and published more than 70 books. She's currently back home in Louisiana enjoying life with her husband, children, and two lazy dogs."
Published by Elm Hill / Harper Collins Christian Publishing
About the Book:
"Learn how successful entrepreneurs were raised! Could your children start a company that disrupts existing industries? Or a non-profit that helps people around the world? Or follow their passion as an artist or activist? And most important, lead a life of joy and purpose, to be happy and fulfilled? Margot Machol Bisnow, mother of two thriving entrepreneurs, reveals how to raise creative, confident, resilient, fearless kids who achieve their dreams, through 99 stories of families who did it. 
Read stories from 70 families who raised true game changers. See family photos of these thriving entrepreneurs, both when they were young and today, and learn the secrets of how they were raised. The entrepreneurs include: film director Jon Chu; YouTube CEO Susan Wojcicki; method products co-founder Eric Ryan; Kiva co-founder Jessica Jackley; Under Armour founder Kevin Plank; Chef Nyesha Arrington; Life is Good co-founder Bert Jacobs; TOMS founder Blake Mycoskie; actor Emmanuelle Chriqui; League of Legends gamemaker Thomas Vu; sweetgreen co-founder Jonathan Neman; Mama Hope founder Nyla Rodgers; Blue Bottle Coffee CEO Bryan Meehan; Grammy-winning songwriter Benny Blanco; Aviator Nation founder Paige Mycoskie; film director Unjoo Moon; charity:water founder Scott Harrison; supermodel Karolina Kurkova; Automattic founder Matt Mullenweg; Daybreaker co-founder Radha Agrawal; Union Heritage Capital CMO Nia Batts; breakthrough coach Quddus; Blue Man Group co-founder Chris Wink; FEED Projects co-founder Ellen Gustafson; Qey Capital co-founder Dhani Jones; TV host Tommy McFly; Hello Alice co-founder Elizabeth McGee Gore; Altimeter Capital founder Brad Gerstner; Modo Yoga co-founder Deena Robertson; designer Breegan Jane."
About the Author:
"Author Margot Machol Bisnow, a former FTC Commissioner and staff director of the President's Council of Economic Advisers, interviewed 70 pioneering entrepreneurs – from Crazy Rich Asians director Jon Chu, YouTube CEO Susan Wojcicki, TOMS founder Blake Mycoskie, to League of Legends game maker Thomas Vu – about their secrets to success for her book, Raising an Entrepreneur: How to Help Your Children Achieve Their Dreams – 99 Stories from Families Who Did.
Margot found out that their key to great success, in fact, was their mothers believing in them – proving the vital role mother's play in an entrepreneurial kid's journey from an aspiring business owner, artist, pop star, to athlete. "
About the Book:
"Practice self-love, embrace mindfulness, and build a positive daily ritual with inspiring prompts, meditations, and reflections just for Black women. 
You're aware of the way you talk to others, but how do you talk to yourself? Is your self-talk in need of a kindness boost? Improve your self-esteem and love the woman that you are with these powerful affirmations. A celebration of Black female identity, this book contains a huge dose of confidence in a small, convenient package. Inside you'll find:
Quotes to empower you and fuel you for success
Reflective prompts that challenge you to live as your most authentic self
Inspiring words of wisdom on today's Black female experience
These words and practices of self-care will encourage you to honor your true power, live life to the fullest, and show strength in everything you do."
About the Author:
"Michelle Goodloe is a licensed clinical social worker and an experienced project manager dedicated to helping make self-care practical and accessible for busy, caring people.
With a professional background in providing clinical interventions, compassion-based services and statewide advocacy for people impacted by domestic violence, child abuse and stress-related conflict, the focus of Michelle's career has been to develop and institute accessible and resourceful avenues of support through her agencies: The Essence of Healing LLC and gmichelle.com.
Michelle is the owner and psychotherapist with The Essence of Healing LLC, a private therapeutic practice based in Atlanta, Georgia. She is also the creator of the wellness-resource website, gmichelle.com. Michelle facilitates interactive workshops for non-profit and private organizations that experience challenges with addressing self-care, compassion fatigue and professional burn out. Michelle lives in Atlanta, Georgia with her husband and son."
About the Book:
"Letter from the heart with this first-ever calligraphy-meets-self-care guide packed with fun and easy projects each designed to soothe anxiety and decrease daily stress while creating beautiful art.
Learning calligraphy and hand lettering is not only a fun hobby, but also a calming self-care practice—no prior experience required! With simple and mindful practice, you'll cut down on stress, make time for yourself, and learn a new skill. With an easy-to-follow guide on lettering, explanations of the common tools you'll need, and tips on how to establish a routine for regular practice and creative time, you'll be relaxing before you know it! From brush pen lettering to calligraphy, you'll learn how to create your own unique style even if you're a beginner. To help you along your self-love journey, Hand-Lettering for Self-Care includes:
Fun and inspiring projects
Exercise prompts
Step-by-step instructions
Practice sheets
And so much more!
Written by educator and lettering-artist Lauren Fitzmaurice (@renmadecalligraphy), this book offers plenty of tips and advice to show you not only how to improve your lettering but also how you can use lettering to find peace and calm."
About the Author:
"Lauren Fitzmaurice is a left-handed calligrapher, lettering artist, and founder of Renmade Calligraphy. Through Renmade Calligraphy she teaches lettering workshops, works with awesome brands, and has gotten to know people in the calligraphy community from all over the world.
An art minor in college, Lauren had always been creative and artsy, but it wasn't until January of 2015 that she first tried calligraphy. It had been an especially difficult year with her youngest son undergoing open heart surgery at 5 days old. Lauren was exhausted and burnt out and looking for something to focus on for herself. Lauren's mom purchased an online calligraphy class for her and the rest is history. Learning this new skill not only helped Lauren focus on self-care and reflection, but it also has enhanced every area of her life and helped her get through other difficult challenges.
When she's not lettering, Lauren is "Mrs. Fitz" to her elementary school students; Mom to sons, Mac and Miles; and wife to her husband, Michael. A lover of color, believer in glitter, and word nerd, Lauren loves to create beautiful letters and make a mess in her creative space with a brush pen in hand. She lives in Owensboro, Kentucky."
WATERCOLOR BOTANICAL GARDEN: A Modern Approach to Painting Bold Flowers, Plants and Cacti, by Rachel Eskandari
About the Book:
"Relax and dive into the ultimate guide to creating watercolor paintings of your favorite flowers! From bright red roses to deep green cacti, this gorgeous, easy-to-follow book will show how anyone can paint luminous watercolor flowers and botanicals. Noted artist and instructor Rachel Eskandari details how anyone can paint a garden of bold, creative watercolor images. Featuring colorful step-by-step images, this book shows how to master the basics of watercolors and then expand your color palette to create boldly unconventional floral artwork. Watercolor Botanical Garden features everything you need to know, including:
*Color theory and mixing for unique shades
*Utilizing the skills of blending, gradients, and shading
*Lesson for creating 25+ different plants and flowers including roses, cacti, peonies, nigella, agave, anemones, queen of the night, leaves, and more
*How to incorporate multiple botanical images for a gorgeous landscape painting"
About the Author:
"Rachel Eskandari is the artist and founder of Pink Puddle Studio LLC. Her mural work has been televised on CNBC's "Cash Pad". Her work has been featured in HGTV Magazine, Phoenix New Times, Phoenix Home & Garden, Arizona Highways Magazine and College Times. After receiving her Bachelor of Fine Arts in painting at Arizona State University she continued on a path towards a creative life by starting her own art business. She teaches students from all walks of life both in-person and through digital channels and offers mini guide booklets and watercolor kits. Connect with Rachel on Instagram @pinkpuddlestudio. She lives in Mesa, AZ."
WATERCOLOR WITH MARKERS: Learn to Paint Beautiful Creations with Brush Pens, by Jessica Mack
About the Book:
"Go beyond lettering and learn to use your brush pen markers to create vibrant, colorful watercolor paintings! In this easy-to-follow guide, noted artist Jessica Mack teaches all the techniques you need to get started and practice through a series of fun projects.
Markers are vibrant, inexpensive, and extremely versatile. They're also less messy than paints, and require less equipment to get started, making them the ideal tool for creating at home or on the go. And when you blend them with water you really unleash their magic!
With over 35 projects you're bound to find something that suits your mood. From fashion illustration to florals, galaxies to food, each project will help you hone your painting skills, and you'll have a beautiful, finished piece of art at the end. Whether you're new to painting, or looking for another way to use your markers, these fun projects will provide you with a relaxing and enjoyable way to grow your skills."
About the Author: 
"JESSICA MACK is an artist, illustrator, and author. She is also the founder of BrownPaperBunny Studio. Born and raised in Australia, Jessica currently lives in the USA's Pacific Northwest with her family and two mischievous cats. She is an artist whose love of paper, bright colors, and florals runs deep. Her style is colorful, bold, and playful, with ink and watercolor being her mediums of choice. She takes inspiration from the world around her, in particular, people and nature. Jessica is largely self-taught and firmly believes that everyone is creative, whether they realize it yet or not. She loves to teach, and you can find her online classes via BrownPaperBunny.com. When she's not painting or working on her next class, Jessica is reading in the garden, sipping tea at her favorite caf'e, or out hiking the lush green trails where she lives. Her favorite marker color is Persimmon, and she never leaves home without art supplies in her purse. Come say hello or check out Jessica's latest art adventures on Instagram at @BrownPaperBunny"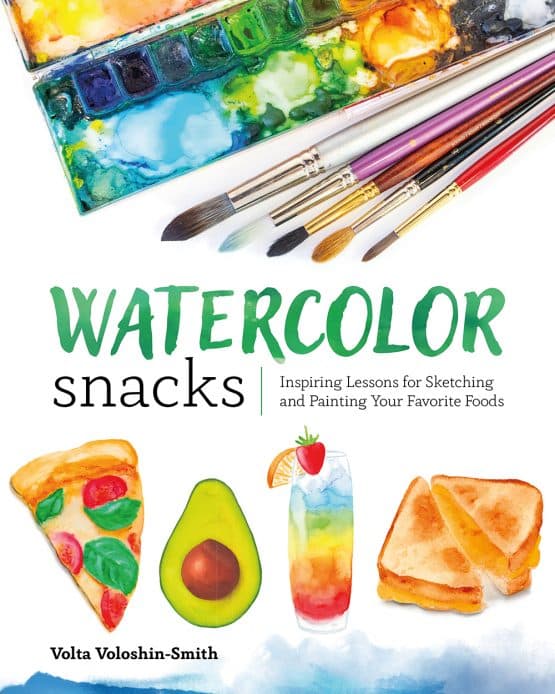 About the Book:
"Inspiring Lessons for Sketching and Painting Your Favorite Foods
Relax and take a bite out of this tasty guide to creating watercolor paintings of your favorite treats!
Watercolor Snacks is for food lovers, beginning artists, and anyone who wants to explore the world of watercolors through easy and accessible prompts and exercises. This colorful guide walks you through basic watercolor techniques and how to apply them to create beautiful, delicious-looking paintings.
Noted artist and instructor Volta Voloshin-Smith details everything needed to create mouthwatering images for every meal of the day, from a syrup-drenched stack of golden waffles and steaming cup of coffee at breakfast to a brightly colored sprinkled donut and a rainbow of popsicles for dessert. This first-ever watercolor food guide also includes:
• Easy watercolor tips, tricks, and techniques
• Recommended supplies (the "ingredients")
• Color theory basics
• Maximizing mindful benefits of watercolor
• How-to lessons for 30 foods from breakfast to dessert
And much, much more! Whether you're a beginner interested in learning a fun new skill, or an experienced painter ready to explore a fun new subject, this book will give you everything you need to create adorable paintings."
About the Author:
"Volta Voloshin-Smith is originally from Moldova and currently calls Dallas, TX her home. She founded Color Snack as a way to share tips, encourage others to live a creative life, and help build the next generation of artists by donating a portion of proceeds to local art education. Volta's mission to watercolor the world can be seen in her various projects such as brand activations, custom illustrations and animations that she creates for national and international brands. She also hosts virtual and in-person watercolor workshops where she encourages everyone to rediscover their inner artist.  Visit her on Instagram @colorsnack"
About the Book:
"Gardens are everywhere, all around us. In this long-awaited guide to garden and flower photography, noted photographer and author Harold Davis tackles the subject of garden photography with an expansive brush. In this book, you'll find techniques ranging from photographing vast formal gardens to photographing flowers for transparency on a light box. You'll learn about closeup photography and how to become a better landscape photographer.
Whether you're photographing tiny flowers or grand landscapes, wandering outside in the garden or bringing the garden indoors, your photography will be enhanced using the many techniques in Creative Garden Photography. Garden photography includes a huge range of photographic styles and technical information that can be applied to almost any kind of photography. In this book, you will learn to use an incredible range of tools from one of the acknowledged modern masters of photography.
•Explore gardens, types of gardens, and how best to photograph them
•Learn about light, light direction and quality, and controlling light in your photography
•Work with your camera and tripod to achieve optimal focus
•Use creative exposures to make beautiful imagery
•Photograph flowers on a light box for transparency
•Learn techniques for creating impressionistic photos
•Master close-up focusing, depth of field, and focus stacking
•Explore complete exposure data and the story behind every photo
"My goal as a photography teacher and writer about photography is to inspire and to help you become the best and most creative photographer and image-maker that you can be."
—Harold Davis
About the Author:
"Harold Davis is a bestselling author of many books, the developer of a unique technique for photographing flowers for transparency, a Moab Master, and a Zeiss Ambassador. He is an internationally known photographer and a sought-after workshop leader. Find him online at www.digitalfieldguide.com"
About the Book:
"Create colorful masterpieces with the official guide to using Unicorn SPiT!
Unicorn SPiT is a paint, gel stain, and glaze concentrate all in one bottle! It creates a multifaceted, 3-dimensional effect on wood, glass, metal, fabric, pottery, wicker, concrete, laminate, and more. Fans love that it's nontoxic and comes in a variety of outrageous colors. Now, for the first time, Unicorn SPiT inventor Michelle Nicole spills the secrets about the best tips and tricks for using this magical substance to create all-new works of art. This book details everything you need to know, including:
• How to use Unicorn SPiT as a paint, alcohol ink, glaze, stain, dye, antiquing agent, watercolor, resin tint, and beyond
• Over 50 projects for transforming any object, including: furniture, clothing, glassware, decorative wood, metal, and more
• Handy instructions for mixing colors to create unique new shades
• Detailed charts showcasing how Unicorn SPiT can be used on a variety of wood types and surfaces
And much, much more!"
About the Author:
"Michelle Nicole is a self-taught artist with a passion for color and design. Whether she's transforming an outdated piece of furniture into a sleek, stylish piece, or formulating new colors to add to her popular line of Unicorn SPiT products, her creative mind is always in motion. In addition to discovering new ways to use her ingenious product, Michelle enjoys teaching others how to "let your creative juices flow." The videos she posts online for tens of thousands of followers are informative and entertaining. No item, surface, or piece of clothing is off limits. As Michelle says, "You can SPiT that!" She lives in Shawnee, KS."

About the Book:
"Test your shutterbug knowledge with this fun deck of trivia cards!
Think you know photography? Quiz yourself and friends with this deck of cards packed with fascinating facts and mind-blowing trivia all about photography history, famous shooters, and technical equipment and knowledge.
Each card features a variety of questions of varying difficulty and subjects. Whether played as a game with others or as a personal challenge, players will learn more than they ever thought possible about photography. The Photography Trivia Deck makes the perfect gift for any camera enthusiast."
About the Author:
"Darcy Reed is a writer, editor, actor, and pop culture junkie. Her books include: The College Bucket List, Disney: Ninety Years of Mickey Mouse, Wonder Woman Trivia Deck, The Joker: Quotes from the Clown Price of Crime, Tiny Book of Jane Austen, and Shakespeare: Famous Last Words. She lives in Sonoma County, CA."


About the Book:
"Anyone who has photographed children knows: kids don't really do posing. But, as the photographer, it's your job and your responsibility to deliver lasting, impactful images in which kids look great. More importantly, the goal is to create photographs of kids that are authentic, engage their spirit, and convey their unique personalities.
So how do you get beyond the "cheese" smile? How do you harness the wild energy of a kid who won't stop moving? How do you create energy and dynamism with a kid who just seems…bored and not into it? How do you do all that and achieve a compelling composition with flattering light and the proper exposure?
Tamara Lackey has been photographing children and families for years, and in The Posing Playbook for Photographing Kids, she teaches you her strategies and techniques for successfully posing and photographing children. The book begins with a discussion of "organic posing," an approach to directing the subject that focuses on making small adjustments that build up to a successful shot. Tamara moves on to the psychology of photographing children, covering how to read your subjects, work with different personality types, and elicit genuine engagement. She also discusses gear, accessories, composition, lighting, and camera settings.
Then, in five chapters that are the real core of the book, Tamara tackles typical shooting scenarios and works through each kind of shoot, explaining what worked, what didn't, and how each shoot progresses from start to finish. Covering the real-world challenges you'll face when photographing children, Tamara discusses photographing children in the studio, in urban settings, on commercial and fashion shoots, in outdoor natural settings, and in groups. At the end of each of these chapters, she provides a handy reference guide of poses to fuel and inspire your shoots.
About the Author:
"Tamara Lackey is a renowned professional photographer, speaker, author and program host. Her authentic photography, from children's portraits to humanitarian photography, is praised within her industry and published internationally. Her work is featured in a myriad of major media outlets, from popular magazines to entertainment sites to talk shows. She lives in Chapel Hill, North Carolina. Visit her online at tamaralackey.com and @tamaralackey."
THEPERFECT 100 DAY PROJECT: How to Choose, Make & Finish Your Creative Project, by Rich Armstrong
About the Book:
"A guide to devising, completing, and sharing a 100-day creative project.
There's a creative person inside every one of us! You don't have to consider yourself an artist to create and share fun or expressive work; sometimes all it takes is commitment. Enter the 100 Day Project, a global phenomenon in which people choose a creative pursuit to practice every day for 100 days. The results of your project can be shared online with the rest of the #100dayproject community.
There is an official 100 day project annually, but you can start your project any day that works for you. Your 100 day project can be anything that inspires you, from painting to writing to baking to embroidery. Or you can run a mile, write postcards to friends, or make your bed. Even a small amount of time—5-10 minutes every day—will encourage and cultivate the creative spirit, and lead to explosive creative growth!
This Perfect 100 Day Project workbook provides support and inspiration on your 100-day journey. Whether you're struggling with deciding on a project, starting your project, or successfully finishing and sharing your work, the information and exercises in this workbook will help you grow your creative habit, organize your thoughts, and use your imagination. Create your perfect 100 day project, and share your incredible results."
About the Author:
"Rich Armstrong is a compulsive creator and creativity geek who designs, illustrates, animates, and codes. He's taught thousands of students a range of skills, he's a Top Teacher on Skillshare, and the founder of TapTapKaboom. Also, he can touch his nose with his tongue."
About the Books:
"A Simple and Uplifting Way to Deepen Your Friendships
We all have friendships that we have maintained over the years. But now more than ever it's easy to lose connection with those who you care about—and the uncomfortable feeling of being disconnected from our friends is all too common.
The 50/50 Friendship Flow offers a conscious path to not simply maintain friendships, but to deepen those relationships to support connection and bring joy and a sense of purpose to both of you.
As you read the 50/50 Friendship Flow you will discover
That everyone you meet is both your teacher and your student
A feeling of wellbeing and happiness as you deepen your friendships
The power of the one-on-one meeting
The purpose and impact that each person brings into your life
The 50/50 Friendship Flow encourages each of us to give one another the gift of time. It reveals the power of sitting down one-on-one with a friend for the sole purpose of letting her know the positive impact that she has made in your life."
"Discover the Power of Meaningful, Life-changing Conversations
We've all had unique—and often messy—life journeys. You know … the good, the bad, and the ugly. But what if your "messy" life experiences have hidden meanings—that if uncovered could help you have mind-blowing insights about your life's purpose, and deepen your friendships?
In this second book in The Friendship Series, life coach Shari Leid chronicles a round of dates with her girlfriends where she asks the question "What is the mess that became your message?" And the responses are astounding!
Make Your Mess Your Message encourages each of us to not only give one another the gift of time but to have meaningful life-changing conversations."
About the Author
"Former litigator Shari Leid currently operates An Imperfectly Perfect Life, LLC, a professional mindset coaching business primarily serving women who are in those tricky middle-aged years, helping them create the life of their dreams. She is a national speaker and the author of the nationally acclaimed book."
From Capucia Publishing / From Capucia Publishing
About the Book:
"Test your knowledge of the British royal family—from fun facts like the names of the Queen's corgis, to the heartbreaking story of the late Princess Diana—with this ultimate trivia book perfect for fans of The Crown or anyone royally obsessed! 
From Queen Elizabeth II to Prince George, there's a lot of news to keep up with regarding the royal family. This fantastic compendium of fascinating facts and stories about the British monarchy will keep you in the know about your favorite modern royals. From iconic weddings, fashion moments, philanthropic events, and the birth of new royals, this book has the latest and most interesting tidbits perfect for any enthusiast. Inside you'll find the royal scoop, including:
The official line of succession to the throne
The royal family's favorite designers and artists
Amazing details about coronations, weddings, and other ceremonies
Jaw-dropping facts about the Crown Jewels
And much more!"
About the Authors:
"Rachel Bowie is director of special projects at PureWow.com, a role that has led her to cover the royals—say, test driving Kate Middleton's go-to coat brand or an op-ed to make sense of Harry and Meghan's sudden departure—among other subjects for nearly six years. Her love of the royals was sealed at a young age following the death of Diana, but also growing up as a mega-fan of Prince William."
"Roberta Fiorito is cohost of the Royally Obsessed podcast and senior editor of branded content at Gallery Media Group. She's covered the royal beat for PureWow for over five years, meticulously poring over every Meghan Markle sighting and Kate Middleton outfit choice. She's been a devotee of the royals ever since her family moved to Scotland for a year, where she was immersed in U.K. culture and history."
About the Book:
"Pour yourself a drink and discover your latest true crime obsession with this cocktail book that pairs deliciously chilling cocktails with the infamous true crime stories that inspired them.
From terrifying serial killers to baffling cold cases and secretive cults, murderinos can't get enough of true crime. Now, you can have yet another way to dive into these horrifyingly true stories with a first-of-its-kind cocktail book that gives a new meaning to the phrase "bad and boozy." This cocktail book is your go-to resource for true crime info and delightfully boozy drinks, including:
Fugitive Fizz
Sazer-Ax Murderer
The Perfect Lime (Mojito)
Amityville Amaretto
Colada Confessions
In Cold Blood Orange
And More!
Mixology and Murder is the perfect gift for any true crime junkie who knows that, sometimes, the best way to deal with the excitement of a serial killer finally getting caught or the frustration of finding out that case is still unsolved is a good, strong drink."
About the Author:
"Kierra Sondereker is a lover of all things true crime and boozy beverages, whether that means hunkering down to binge the latest true crime documentary with a few hard seltzer, or sitting by the fire with her sister, homemade cocktails in hand, discussing the latest My Favorite Murder episode (both have happened an alarming amount of times). If there's one cold case she absolutely needs the answer to, it would probably be the JonBenét Ramsey case. Kierra works as an Associate Editor for Ulysses Press and lives in Brooklyn."
About the Book:
"Drop right into the heart of Grosvenor Square with this unofficial coloring book featuring 20 original, hand-drawn illustrations inspired by the cult-favorite sets of the hit Netflix show Bridgerton.
This year's social season has finally arrived. Meander through grand ballrooms, exquisite mansions, manicured gardens and lavish promenades inspired by the breathtaking sets from Netflix's most-watched show of all time—Bridgerton. From bestselling coloring book illustrator, Valentin Ramon, Social Season offers 20 unique, original, hand-drawn illustrations that you can bring to life in vivid color and get a hands-on feel for the décor belonging to Duke, Daphne and Eloise as you travel through the intricate details of Grosvenor Square."
About the Author:
"Valentin Ramon is a Spanish comic book illustrator living in London, United Kingdom. He is the illustrator of Everybody Poops 10 Million Pounds and co-creator of the comic book  D4ve, published by IDW."
About the Book:
"Celebrate your favorite songs, performances, and music video moments with this official Britney Spears coloring book.
From "…Baby One More Time" to the Las Vegas stage, there's no shortage of iconic Britney Spears moments. Now, color your way through the late 1990s to today with these gorgeous coloring pages based on the best of Britney. This book includes classic song lyrics, unforgettable album covers, stunning performance looks, and more!
The Official Britney Spears Coloring Book is the ultimate way to pay tribute to the Princess of Pop and the perfect gift for any Britney fan. So hit that Britney playlist one more time, grab your pens, and get coloring!"
By The Editors of Ulysses Press
About the Book:
"Navigate the worlds of cannabis and parenting with this essential guide for women interested in learning more about THC, dispensaries, micro-dosing, edibles, and how to incorporate it all into a healthy family life. 
With national marijuana legalization on the horizon, more and more mothers are looking for information about how to safely and responsibly use cannabis. Known as "weed moms," these trailblazers are breaking down the social stigma surrounding cannabis and parenting, creating a modern culture all their own.
Weed Mom is the first and only book for these mothers, celebrating how weed can be a safe and healthy way to relax, destress, and improve their social lives and relationships. As mothers find themselves on the frontline of a societal shift, this book is more timely than ever. Packed with information for both the seasoned and first-time user, this book offers friendly and practical advice including:
the basics of THC and CBD
what to look for at the dispensary
tips and tricks for various intake methods
micro-dosing
cannabis-friendly talking points for family and friends
how to use cannabis to improve your romantic relationships
and much more!"
About the Author:
"Danielle Simone Brand writes articles and essays about parenting, cannabis, yoga, and relationships. She holds a BA from Dartmouth College and an MA from American University. Danielle enjoys the endless blue skies and urban canyons in her home city of San Diego with her husband, two children, and a puppy named Pesach."
Don't Be A Pusi, by Elizabeth Joran, Illustrated by Ash Antchoutine
New 'Not Safe for Kids' Picture Book Breaks Down Bad Parenting Styles 
About the Book:
"pusillanimous/ˌpyo͞osəˈlanəməs/ adjective 1. showing a lack of courage or determinatio 
Are you raising a Pusi? This is the question raised by behavioral scientist Elizabeth Jordan in her new book, Don't Be A Pusi: An Inappropriate and Politically Incorrect Book for Entitled Teens and Their Traumatized Parents.
In the 1960s, clinical psychologist Dianne Baumrind  categorized four different types of parenting styles- Authoritative, Authoritarian, Permissive and Uninvolved. However, to accommodate the ever-changing attitudes and viewpoints of today's parents, Elizabeth has tweaked these categories to reflect a more modern sensibility.
She categorizes them as The Fair Judge (reasonable and nurturing with high and clear expectations), The Dictator (thought of as a disciplinarian), The Permissive Parent  (let their children do what they want with limited guidance) and The Absent Parent (give children a lot of freedom and generally stay out of their way).
Written in a rhyming meter like that of a children's picture book (though peppered with adult language) with eye-catching illustrations, Don't Be A Pusi breaks down the mistakes a parent makes by adopting a Permissive parenting style.
Both irreverent and educational, Don't Be A Pusi: An Inappropriate and Politically Incorrect Book for Entitled Teens and Their Traumatized Parents provides a "what not to do" guide to parenting."
About the Author:
"Elizabeth Jordan is a behavioral scientist who earned both a Master of Fine Arts and a Master of Science degree while simultaneously raising five children. She was an artist in residence at the Museum of Art and Design and will soon be opening a center to offer job training, art, music and movement to children and adults with autism. She has worked closely with renowned fashion designer Donna Karan, with Elizabeth's work represented at all of Karan's nonprofit Urban Zen Centers. Elizabeth's new "Not safe for kids" picture book, Don't Be A Pusi: An Inappropriate and Politically Incorrect Book for Entitled Teens and Their Traumatized Parents, which breaks down the dangers of permissive parenting, is available at Amazon and Barnes & Noble."
Published by Archway Publishing