Custom Walk-In Closets and Closet Systems for Your Home in Vancouver
Walk-in closets in master bedrooms or other parts of a home are hallmark features that many homeowners in Vancouver desire. They vary in features, size, and scope since quality closet systems are not just large spaces for storing things. They are a personal oasis for various essential items.
Everyone enjoys a closet that reflects their personal style. This ranges from clean lines and cool colors to warm organic spaces. There are options for every taste.
Previously, walk-in closets were seen as things that added appeal and value to master bedrooms. But today, any room can have it, even the guest bedroom. You may want to check out this website to find ideas for your walk-in closet.
Benefits of Installing a Custom Walk-In Closet in Your Vancouver Home
Installing a custom walk-in closet in your room in Vancouver is a simple home remodeling project. It also has some benefits for you. A closet makes your life comfortable and boosts the security of your home. It also adds to your home's value if you plan to sell later. Therefore, everyone should plan to have one.
1. Simple Cleaning
When there is more space, it makes cleaning easier. If the space is cramped, you need to empty the closet for thorough cleaning. You can locate a good home cleaning company in Vancouver to help you clean the area.
2. Easy Organization
It is more difficult to organize a cramped area compared to a spacious one. An average closet system bursts at the seam with clothes, shoes, and other things, making its organization nearly impossible. But a walk-in system has enough space that allows you to stow your belonging in categories rather than cramming them in together.
3. Secure Storage
People usually store their jewelries and other valuable items in their closets or dressers. When they place them in walk-in systems, they are safer because the doors come with locks. This provides an additional layer of security for your possessions. The locks may not be as strong as those in bank vaults, but they will delay thieves, giving the police more time to step in.
4. Additional Value
Home improvement projects are investments; therefore, it is essential to choose a project that will leave a significant impact on your home's value. A customized walk-in closet offers just that. Any potential buyer will appreciate the extra space, and it is enough to categorize another side room as a bedroom.
Additionally, it helps you to sell off quickly since it makes your home appear neat and organized, which generally increases the perceived value. In determining the value of your closet, the details count, but they are good investments. You can visit https://rismedia.com/2020/05/19/should-you-buy-a-house-with-walk-in-closets/ to know why people prefer houses with walk-in closets.
5. Storage Space
Some people construct closets because of the extra space they need for their accessories and clothes. These organizers vary in size and the common type measures sixty by hundred square feet. This measurement provides large storage space, particularly for shelf lovers who also want to maximize the vertical space.
6. Quick Dressing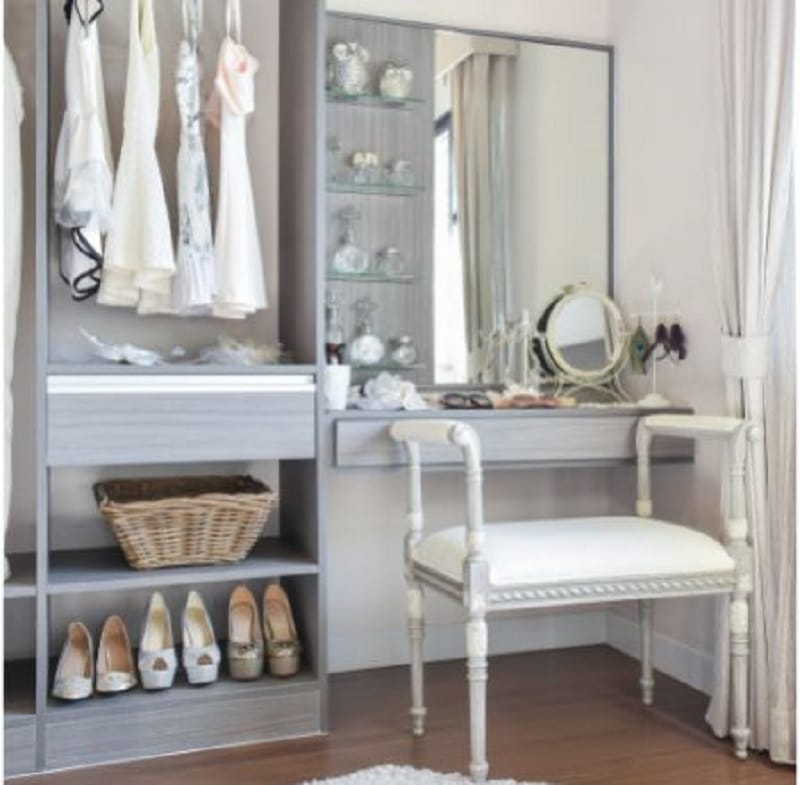 On average, people spend thirty minutes every morning, trying to get ready for work. The time adds up fast, but a spacious organizer can help to reduce it. Your customized organizer can have a hairdryer, mirror, and other items so it doubles as a dressing space.
That way, you will save time on walking to and from the mirror and dresser or between your appliances every morning. It will also shorten the minutes you spend getting ready.
7. Additional Privacy
Sometimes, we need extra privacy, especially when there are guests in the house, and you want to dress up. In situations like this, you can walk into your closet and shut the door.
Tips for Maximizing Your Large Closet Space
Although your closet is large, it may still look messy if you do not organize it. You can use DIY organizer units or custom closet systems. They are usually made of pine, oak, cedar, or cherry.
Before the custom closets company constructs your system, ensure you take inventory of all the items you own.
Take note of the number of boots and shoes you own.
Check your clothing to know how many short-hanging items you have, such as shirts, jackets, and blouses.
Check the number of longer clothes like dresses, pants, and jeans.
Check the number of folded items like sweatshirts, sweaters, and jeans.
Determine if you want to keep smaller items such as socks, scarves, accessories, and underwear in the organizer.
After taking inventory of your items, the company can use it to draw a design plan that will match your needs. Most companies in Vancouver such as Designer Custom Closet Guys, like to visit the home of their clients to see the available space before coming up with a design.
In addition to a closet system, you can install hangers that come with a shelf on top for more storage. You can use that area to keep off-season clothes in transparent plastic tubs that will enable you to view the content of the tub. Also, ensure you keep similar items together. For example, you can keep all your shorts in one place while shirts go into another and your sandals into yet another.
Some custom closets have adjustable shelving units. They are suitable for folded clothes like sweaters. You can also use colorful top bins to store your accessories, underwear, and socks. Organize your bins from bottom to top, according to how you wear your clothes. For instance, place socks and underwear at the bottom, body garments and sweaters in the middle, and scarves and hats in the top row.
Conclusion
If your home does not have a walk-in closet yet, you can consider adding it to increase its value. We discussed the other benefits of installing a customized storage space for your items, as well as tips to organize the space.