Festive Tips To Banish The Bah Humbugs
Despite coming at the same time each year — year after year — the holidays tend to sneak up on us. Still wiping away the sleep collected during your Thanksgiving turkey coma, you may feel like you're unprepared for the most wonderful time of year. If you're finding it difficult to embrace your inner Santa, don't worry. With a little help from these tips, you'll be in the mood to celebrate and make merry in no time.
Deck the Halls
If you have a habit of waiting until the week before Christmas to start decorating, you're waiting too long. It's safe to decorate your home inside and out as soon as Thanksgiving comes and goes. There are beautiful LED lights that can transform any stark house into a holiday haven. Try adding light-up reindeer, winter bush arrangements, and figures to get the full effect. Don't forget about inside too. Pull out the snow globes, garland, and tree as soon as you dare.
It may seem simple but by surrounding yourself with the signs of the season you can help subconsciously prepare yourself for the big day. Each day that you see wreathes, the tree, and other holiday knickknacks will act as a reminder for what's to come, and it can bring the family together if you get everyone to help with the task. If you're feeling crafty, set aside a day when you and the kids handcraft your own decorations. You'll make new holiday memories as you let your creative side shine.
Mix-Up a Festive Cocktail
Sometimes, booze is the answer! When you're in for the night and have no other plans but binge-watching Netflix, look up cocktails inspired by the season. Egg nog is a classic consisting of cream, vanilla, spices, and — you guessed it — eggs. If you have the time, it isn't too hard to make from scratch. Not sure where to start? Try following Jamie Oliver's recipe — it's supposed to be the best one in the world. You'll be thanking us once the warm scents of cinnamon and clove fill your kitchen.
Don't worry if you don't have the time or energy to stand in front of the stove. Store bought works just as well. Try warming the cockles of your heart with a carton of egg nog, remembering to spike it with some spiced rum once you get home.  You'll have a tasty beverage to sip in the evening even if doesn't get you into the Christmas spirit.
A Red and Green Outfit
Visual aids also come in handy, like a festive outfit for your smartphone. Customize a red and green iPhone skin for your 6s, and you'll have a jolly reminder every time you tap an app, answer a call, or shoot off a text. Though an unusual color combo at any other time of the year, red and green are the quintessential pairing of the season. A phone as red as a poinsettia or as green as the garland on your mantel will certainly get you in the mood.
You're in luck if you need a last-minute color-coded addition to your iPhone. Skin designers like dbrand stock up on vibrant true colors just in time for the season, and they offer fast, free shipping all over the world. You can also pick a few back-up iPhone 6s skins at dbrand just in case you wanted to switch out your holiday-inspired decal for Bamboo or Dragon Skin once the New Year rolls in.
Make a Point to Send Snail Mail
When we can send off texts or reaction gifs to the other side of the world in seconds, sitting down to write out letters to our loved ones may seem archaic, but there's something to be said for writing out Christmas cards or holiday notes. This traditional task, like the holiday classic A Christmas Carol, harkens back to a simpler time. The Christmas of yore can inspire a modern feeling of the holiday spirit in those who are feeling a little like Scrooge.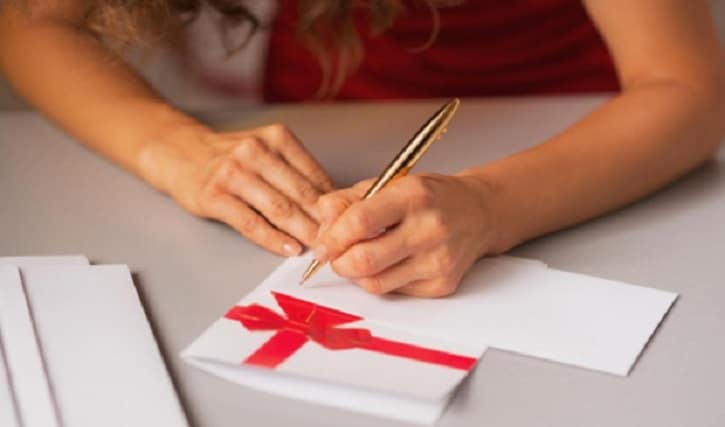 These cards will take you longer to create than a simple text containing an emoji. In requiring some thought, these letters encourage you to reflect on what's important in your life by focusing your attention on the people you love. Don't let your handwriting hold you back. You can always type it up in Word. And if you have no idea what to write, use a template to guide your card. You don't have to write a beautiful poem every time. Even a quick acknowledgement is better than nothing.
Make your way through this list and see if it inspires the holiday spirit. Let us know which ones worked the best, and don't forget to share any of your go-to tips when you're feeling less than jolly. Whether it's watching a specific movie or following a particular cookie recipe, we want to know the traditions that help you and your family get in the mood.