#simoninsiders: I'm required to disclose a relationship between my blog and Simon & Schuster. This could include Simon & Schuster providing me with content, books, access or other forms of payment.
It's Worth Reading…A VISION OF FIRE,  by Gillian Anderson and Jeff Rovin
A Review and Giveaway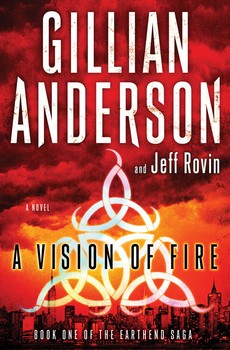 The first novel from iconic X-Files star Gillian Anderson and New York Times bestselling author Jeff Rovin: a science fiction thriller of epic proportions.
Renowned child psychologist Caitlin O'Hara is a single mom trying to juggle her job, her son, and a lackluster dating life. Her world is suddenly upturned when Maanik, the daughter of India's ambassador to the United Nations, starts speaking in tongues and having violent visions. Caitlin is sure that her fits have something to do with the recent assassination attempt on her father—a shooting that has escalated nuclear tensions between India and Pakistan to dangerous levels—but when teenagers around the world start having similar outbursts, Caitlin begins to think that there's a more sinister force at work.

In Haiti, a student claws at her throat, drowning on dry land. In Iran, a boy suddenly and inexplicably sets himself on fire. Animals, too, are acting irrationally, from rats in New York City to birds in South America to ordinary house pets. With Asia on the cusp of nuclear war, Caitlin must race across the globe to uncover the mystical links among these seemingly unrelated incidents in order to save her patient—and perhaps the world. – See more at: http://books.simonandschuster.com/A-Vision-of-Fire/Gillian-Anderson/9781476776521#sthash.H78sW93n.dpuf

What I thought:
I've been a fan of Gillian Anderson for a long time, so when I found out the she had written a book I was very excited for the opportunity to get my hands on a copy.  I had high hopes that it would be good, and I wasn't disappointed! A VISION OF FIRE,  is an exciting read, and I was hooked from the beginning.
The characters are believable and the story line is complex.  Each chapter brings more questions and intrigue.
Long time friends, Caitlin O'Hara (child psychologist)  and Benjamin Moss (a translator with the UN), work together to try to find out what is causing the frightening episodes that are not only manifest in an ambassador's daughter, but also with others  around the world.  They are working against the clock to unravel the mystery.
Throughout the story, here is an underlying theme of will they or won't they, between Ben and Caitlin.
A VISION OF FIRE is said to be book one of " the Earthend saga".  I'm looking forward to book 2!
If you enjoy a good thriller, A VISION OF FIRE should be on your bedside table.
Vision of Fire on Simon & Schuster's Website
Join Simon & Schuster Insiders – and get the inside scoop on books that are "worth reading"!
#simoninsiders
Thanks so Simon & Schuster, I have 2 copies of A VISION OF FIRE, up for grabs.  Enter using the Rafflecopter from, below.
a Rafflecopter giveaway

A VISION OF FIRE, by Gillian Anderson| Jeff Rovin – Review