This post has been compensated by Collective Bias Inc., and it's advertiser.  All opinions stated are mine alone.
Lifeway Foods makes Kefir Cultered Milk Smoothies, which are great on their own, but I think they are AWESOME in a recipe!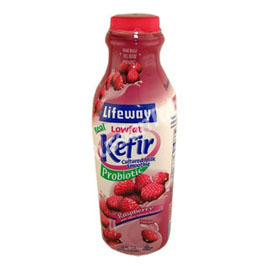 My mother-in-law has been making a family favorite for years…it's called FLUFF.  My husband loves the stuff and so do our children.  It's a simple recipe with just 2 ingredients…flavored gelatin and ice cream. So when given the opportunity to come up with a recipe using Lifeway Kefir Cultered Milk Smoothies, I thought – voile', just substitute it for the ice cream!
I found the Lifeway Kefir Cultured Milk 32oz. Smoothie product, in the Dairy case  at my local Winn-Dixie.
When we got home from grocery shopping, I poured some of the smoothie into a baking pan, and placed it in the freezer. When is was frozen solid, I got ready to put my dish together.
Simply place flavored gelatin into a large mixing bowl.  Add a cup of boiling water and stir until completely dissolved.   Take a measuring cup and fill with ice cubes and water to make 1 cup.  Add to gelatin mixture and stir until ice cubes have completely melter.  Now, take the frozen Lifeway Kefir Cultured Milk Smoothie and scrape with an ice cream scoop – I filled 2 cups.  Add to the gelatin mixture and beat with a whisk until nice and frothy.
Pour mixture into a shallow dish and place in the fridge.
Let your fluff set in the fridge for several hours or overnight.  When ready to serve, just spoon it into a tall stemmed glass, top with some whipped cream and  garnish with a sprig of mint.
Light, refreshing, delicious and so easy to make!
Lifeway Kefir Cultured Milk Smoothies contain probiotics that are good for the gut… so not only are they tasty, but they're good for you.
This post brought to you thanks to #KeiferCreations and #CollectiveBias.
So, what are you waiting for?  Head on over to your neighborhood Winn-Dixie and pick up a few bottles. What flavor(s) will you choose?  Besides Raspberry, they come in Strawberry, Blueberry, Vanilla, Mango, Honey Fig,  Cappuccino, Chocolate Truffle and Coconut Chia.
Sign up for Coupons and Newsletter!
I'd love to know what ideas you have to use these great smoothies in your recipes!
Lifeway Kefir Cultured Milk Smoothies…Fluff Recipe