Special Jewelry for Special Moms…from Bradford Exchange Online
Disclosure: This product was received from The Bradford Exchange for review purposes only. All opinions in this post are my own and I was not paid to endorse it.
I'll be totally honest – I do love me some BLING!
And when that bling is filled with love and sentiment, it's all the more wonderful…cue The Bradford Exchange Online!
About The Bradford Exchange
The Bradford Exchange has been recognized as the premier source for a vast array of unique limited-edition collectibles and fine gifts that offer an exceptionally high level of artistry, innovation and enduring value. 

To our clients the name The Bradford Exchange Online can mean many things. For some it's a great shopping experience, a place to find the finest limited-edition collectibles, dolls, figurines and home décor, plus fine jewelry and apparel — all backed by the best guarantees in the industry (up to 365 days on many items). For others it's the ability to get accurate, up-to-the minute information about the artists, themes and collectible types they love best. For still others, it's the opportunity to find a unique gift that's not only exclusive and memorable, but often personalized just for the loved one who will receive it.

Whatever the reason you are visiting us, we want you to consider The Bradford Exchange Online as your first choice for unique, beautifully handcrafted items that are as special as your own interests. Our mission is to delight collectors and gift buyers alike by providing an exciting and satisfactory online shopping experience second to none.
So, I have a big family. This makes it hard to find Mother's Jewelry. There are never enough "slots"…be it charms or gems, for all my kids. Not so with Bradford Exchange.  They sent me this most beautiful Strength of Family bracelet with a each of my children's names and birthstone charms…all 10 of them. I cannot tell you just how excited I am!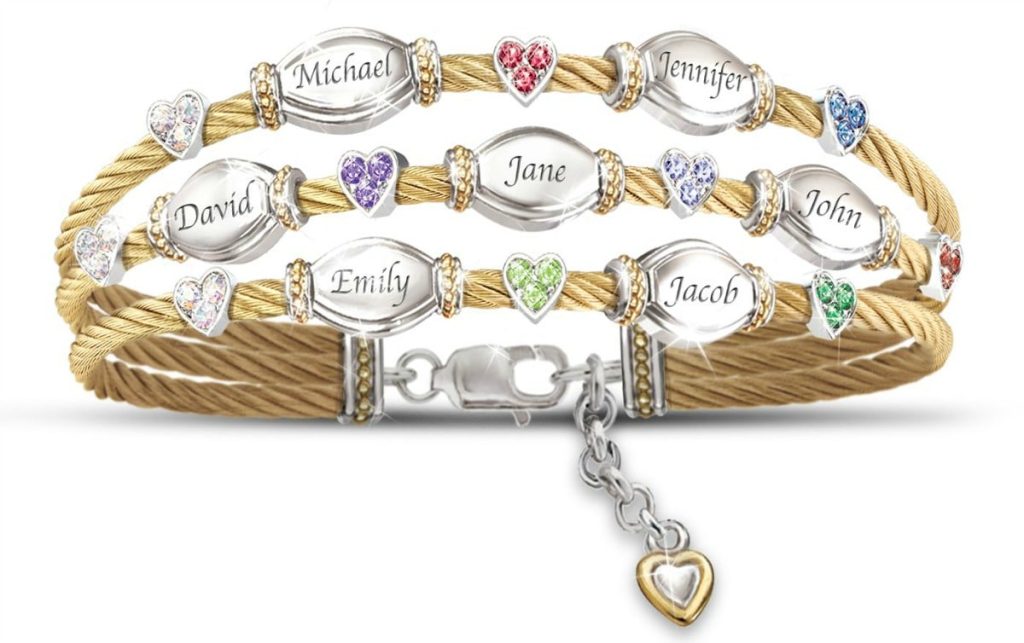 Previously, if I wanted a piece of mother's jewelry – a ring, bracelet or necklace – I would have to get more than one, to fit in all the kids.  Now I have one exquisite piece that showcases them all.
My bracelet arrive in soft luxurious drawstring bag, inside of a logo-ed box.
Big family or small, Bradford Exchange has stunning pieces for moms, and you have time to order now for Mother's Day.  I can tell you, she will love a personalize item and every time she wears it she will beam with joy.
Jewelry, dolls, handbags, music boxes, home décor…and so much more, is at your fingertips. And the icing on the cake is The Bradford Exchange guarantee!
Shop now for the special mother in your life…at The Bradford Exchange Online!
Learn More and Connect with The Bradford Exchange Online: