Disclaimer: Products were received from Teach My for the purpose of this review. NO monetary compensation was exchanged. All opinions stated are those of the writer.
Generally we all have the best intentions and highest hopes for our little ones, but sometimes we need a little guidance in setting them up with the building blocks for success. Give your children the gift that keeps on giving with Teach My! Now, my Dears, you're in for a treat… I'll be featuring not one, not two, but three (yes, three) star products today! (Check out full product list HERE.)
First up we have the Teach My Preschooler Learning Kit (recommended ages 3 and up). This deluxe kit sets your child up with the tools to build a strong foundation towards better and early learning habits. Here you can concentrate on teaching your preschooler the basics- reading, writing, counting and basic math ( addition and subtraction). In this kit you will find: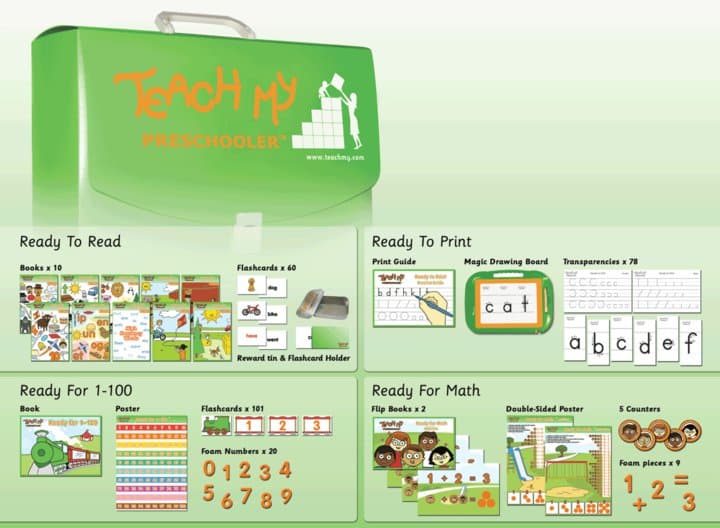 The Deluxe Kit Contains:
·                     Teach My Preschooler Reading Learning Set
·                     Teach My Preschooler Printing Learning Set
·                     Teach My Preschooler Numbers to 100 Learning Set
·                     Teach My Preschooler Math Learning Set
Features:
·                     10 Readers
·                     60 Flashcards
·                     1 Flashcard Reward Tin
·                     1 Magic Drawing Board
·                     72 Print Transparencies & Printing Guide
·                     101 Train Flashcards
·                     2 Posters
·                     1 Add/Subtract Flip-Books
·                     Foam Numbers, Counters and Equation Signs
·                     Teaching Guide
·                     Storage case
About Teach My
Teach My, award winning learning kits are screen-free and have all the tools to teach the basics. From the ABCs, colors and counting to reading, printing and math, your mini scholar can master skills in just 20 minutes a day.
The next two items that we have are definitely going to feel more enjoyable and interactive for our children as they are meant to be used while they play! We have the Teach My Fish and Learn Yoga Mat Set and the Teach My Toddler- Bath Time ABC's Learning Set, both products are designed for your children to be entertained while they learn and develop fine motor skills.
The Fish And Learn Yoga Mat has fun fish shaped pieces with letters and numbers, fishing rods, inflatable dice, and more! Then with the Bath Time ABC's Learning Set you'll find floating ABCs, floating baseboards, and 2 adorable water squirtees. Both products are filled with flashy interactive sets and what is equally amazing about all of Teach My products are their super affordable prices that yield priceless results!
Give the special child in your life the gift of learning, this holiday season.
Learn more and connect with Teach My: Shop | Facebook | Twitter
Teach My Baby Toddler Preschooler Kindergartener – CHILD