Thirty-One Gifts for Christmas in July
Disclosure: Product was received from Thirty-One Gifts for review purposes only. All opinions in this post are my own and I was not paid to endorse it.
Ho Ho Ho…Sand instead of SNOW.  It's Christmas in July and Thirty-One Gifts has way more than 31 offerings to place under your palm tree.
Twas 6 months before Christmas and all through the house, Thirty-One Gifts were strewn all about. It wasn't chaos, it wasn't a mess. With stylish storage containers it was looking it's best.  Large Utility Totes filled with toys for the kids. A Backpack for Aunt Marge and a Purse for Aunt Liz.  There were Thermal Bags sized for lunch and for dinner. An All About the Benjamins held some fives and a tenner. Knitting was stored in a Catch-All Bin and a Close to Home Caddy was filled to the brim…with rubber bands pencils and big paper clips, along with some scissors for paper to snip.There were gifts for kids and gifts for guys, and gifts for the sage and truly wise. Gifts for babies. Gifts for brides. Gifts that are perfect for a long long car ride. Winter, Spring, Summer, Fall….Thirty-One Gifts has SOMETHING FOR ALL!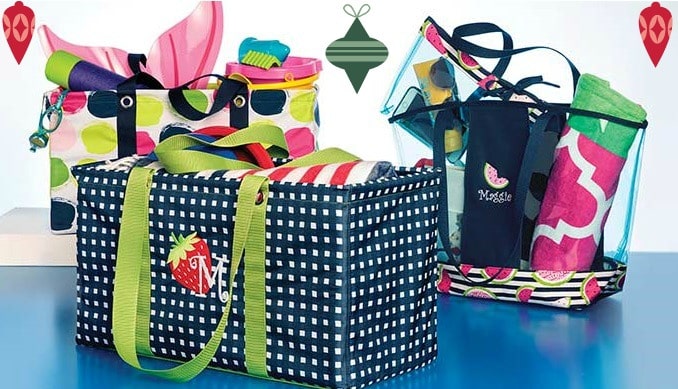 Thrity-One Gifts Helping independent business owners across the country support their families and reach their dreams.

Our products are both stylish and functional—from beautiful handbags and purses to handy storage totes, baskets, stationery and more, there is something for everyone.

And most of our products can be personalized to make your own unique statement. Visit our website to be connected with a Thirty-One consultant who can show you our collection, or maybe even think about selling Thirty-One yourself!
Get them on sale…get them right now…then wrap them up and oh holy cow.  The thank yous you'll get and the smiles all around, even though Santa's no where to be found.
Learn More and Connect With Thirty-One Gifts:  Shop | Facebook | Twitter | Instagram | YouTube | Pinterest