Walmart Cell Plans Mean Great Savings
This is a sponsored post by Lunchbox, however all opinions are my own.
Walmart cell plans are a great way to get that special someone on your Christmas list a great gift at a great price. Walmart cellphone plans feature the latest phones like the Nokia Lumia 530, and unbeatable T-mobile plan options – most featuring no data usage for streaming music. You can't beat that!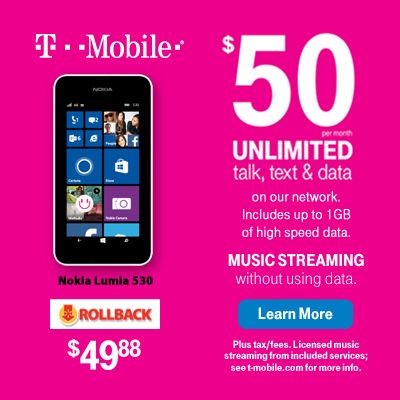 Walmart Cell Plans Can't be Beat
We all know that Walmart has pretty much the best deals on everything, which means that their recent step into the cell phone arena is great for all of us! I've had many cell plans over the years, and I can say that these plans provide the most bang for the buck. I don't know about you, but a great cell phone at a great price on a great network fits the bill perfectly for me. I headed over to Walmart to speak with an associate about their plans, and I was pleasantly surprised at how transparent these plans really are.
I've seen some other plans advertised on television, and they sound good, but when I check out the coverage area and the extra charges, those plans end up being much more than advertised. With Walmart cell plans, what you see is what you get, and that's important to me. A lot of cell plans charge for music streaming. That can suck a huge chunk of your data plan in no time flat! With Walmart cell plans using T-mobile' s great network, you don't incur data usage charges when you stream your favorite music. That's great.
Benefits of Walmart Cell Plans
Latest and greatest phones like the Lumia 530
Affordable, customizable plans – most including unlimited music streaming with no data charges
T-mobile network
Walmart and T-mobile – two trusted companies working together
To celebrate these new Walmart cell plans, we're giving away five $50.00 Walmart Gift Cards. At this time of year, that's a big bonus. The giveaway ends at 11:59 PM on Wednesday, December 31, 2014, so be sure to enter while there's still time.
Head over to your local Walmart and check out their great cell phone plans. Walmart cell plans really are the most affordable plans out there, and their phone selection is great. Check them out!
GIVEAWAY INFO:
Giveaway is for: (5) $50 Walmart Gift Cards
It ends at 11:59 p.m. PT on Wednesday, December 31, 2014
T-Mobile Holiday