Disclosure: The Eglu Go UP Chicken Coop  was received from Omlet,  for review purposes only. All thoughts and words in this post are my own and I was not paid to endorse it. I am only voicing my opinion about this product.
It's no secret to our regular readers that I'm a nut when it comes to animals.  I love them.  I've had dogs and cats, guinea pigs, mice, turtles, love birds a conure and a pot bellied pig. While growing up, we always had dogs and cats, and while living on 17 acre's, a Prairie Dog along with the neighbors cows and horses. What I haven't had yet are chickens, and I've wanted backyard hens for as long as I can remember.  Now my dream will be coming true!  Thanks to Omlet, the makers of the Eglu Go Up Chicken Coop… before you know it I'll be collecting fresh eggs each day!
So what makes an Eglu Go UP Chicken Coop so special? "The latest Eglu to join the collection, the Eglu Go UP Chicken Coop makes keeping chickens easy and fun. This plastic chicken house comes with optional wheels, making it easy to move, and the fox-resistant chicken run is extendable to give hens even more room. Easy to clean and insulated, the Eglu Go UP is a superb hen house for up to four birds."
The coop can be purchased alone, or with a 2mm run, 3mm run…with or without wheels. I received a coop in Leaf Green with Wheels and a 2mm run.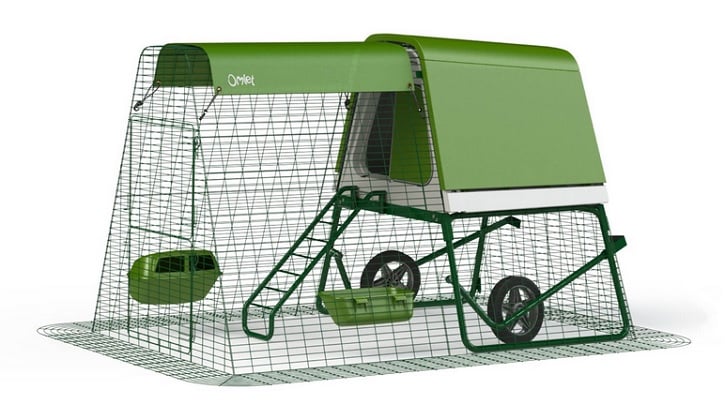 About Omlet – the makers of the Eglu Go Up Chicken Coop
It all started in 2003 when four friends met at the Royal College of Art in London. They designed a revolutionary new chicken house which made it simpler to keep chickens in gardens. It looked rather like an igloo and in a moment of punning genius that would define the next generation of chicken keepers, they named it the Eglu and an icon was born. Since then Omlet's designs have delighted thousands of pets and their owners around the world through their uncompromising attention to detail and innovative ideas.
Putting the Eglu Go UP Togethger
The coop arrived about a week ago.  It came in 3 boxes, ready for assembly.  My son, helped me (well if I'm totally honest – he did most of the work), put it together.  After a couple of bumps in the road, I had myself a chicken coop!  So what were those bumps you ask?
First, several of the coops that Omlet has to offer, have the same parts.  Each box included instructions.  (In addition, I found a YouTube video with assembly directions.) Once we realized why the video and written instructions didn't sync, we were back on track. This was totally a USER MISTAKE!
Second, many of the nuts and bolts did not want to cooperate.  The bolts were just a fraction larger than they should be (or if you want to look at it from another standpoint, the nuts were just a fraction smaller than they needed to be.) After some not so nice words muttered under our breath and a smashed knuckle,  the decision was made to go to the harware store, and for $2 bucks our problem was resolved. THIS WAS THE FAULT OF THE MAUFACTURER OF THE NUTS AND BOLTS.
By the way, the Eglu Go UP also come in purple.
Easy to clean
Easy to Move
Perfect height
Easy to use Front Door
Spacious, Fox-Resistant Run
A Comfortable Temperature All Year Round
Top and Bottom Run Door Work Independently
 Innovative feeder and drinker
10 Omlet Egg Boxes,
All-weather shade
So excited that the coop is here and put together.  Stay tuned!
Bwak Bwak Bwak Bawk: The Eglu Go Up Chicken Coop