Hallmark BuzzWorthy Cards…Fun For Adults of All Ages
I am a member of the Collective Bias®  Social Fabric® Community.  This shop has been compensated as part of a social shopper amplification for Collective Bias and its advertiser.
I'm a Hallmark Fan…through and through, so I was thrilled to be a part of this #TrendyCards / #CollectiveBias Shopportunity!
I've been a member of the Hallmark Card Rewards Program for so long, that my membership card is just about worn out.
Don't know about the program?  Well you should!  For every 5 cars you buy, you'll earn a reward.
You can learn more and sign up online.
(Please disregard the "strike out" on the link above – it is working.  I'm having some technical difficulties with my WP format!)
Hallmark is by far my favorite of all card shops, and to me, it's one of the happiest places on earth.  So many great cards and gift items to choose from….something for EVERY OCCASION imaginable!
Being somewhat of a smart alack, Hallmarks BuzzWorthy cards are right up my alley.  I love to keep cards on hand for birthdays, weddings, graduations…and just "Hey I miss ya, what's going on in your life?" greetings. 
Head on over to Walmart to find Hallmark BuzzWorthy Cards.  You'll find them in a specially marked section.
Check the endcap displays too! You'll know that their BuzzWorthy, because the slots will be marked as
"The Latest Buzz"!
It just about killed me when we moved away from our home town 7 years ago.  We left family and dear friends…2 of whom mean the world to me.  Sadly one of them died several years ago.  I will always have my memories of her and the fun times we had together.  We used to buy cards for each other all the time, but we would never sign them… that way we could pass them back and forth, over and over again.
The other friend is my nearest and dearest, and I will  treasured her all of my life.  Even though we may not talk for weeks and weeks, and only get to see each other in person once or twice a year – each time we get together, it's as if no time has passed at all. We pick right up where we left off.  I love to send her cards in the mail, for birthdays and holidays, and for no other reason, than that  I love her and think of her everyday.  She has a crazy sense of humor like me, so you never know what will land in our mailboxes!
BuzzWorthy cards from Hallmark are perfect for our relationship!
Here are a few of the cards that were purchase during my last trip to Walmart.
I love Maxine, so I had to pick up a few cards featuring her.
This is the sentiment inside:
Another funny one to send to a good friend:
And the inside says:
And you know me.  I have to buy cards with animals on them!
Oh my gosh – this one is PERFECT! This  just had this happen to me the other day.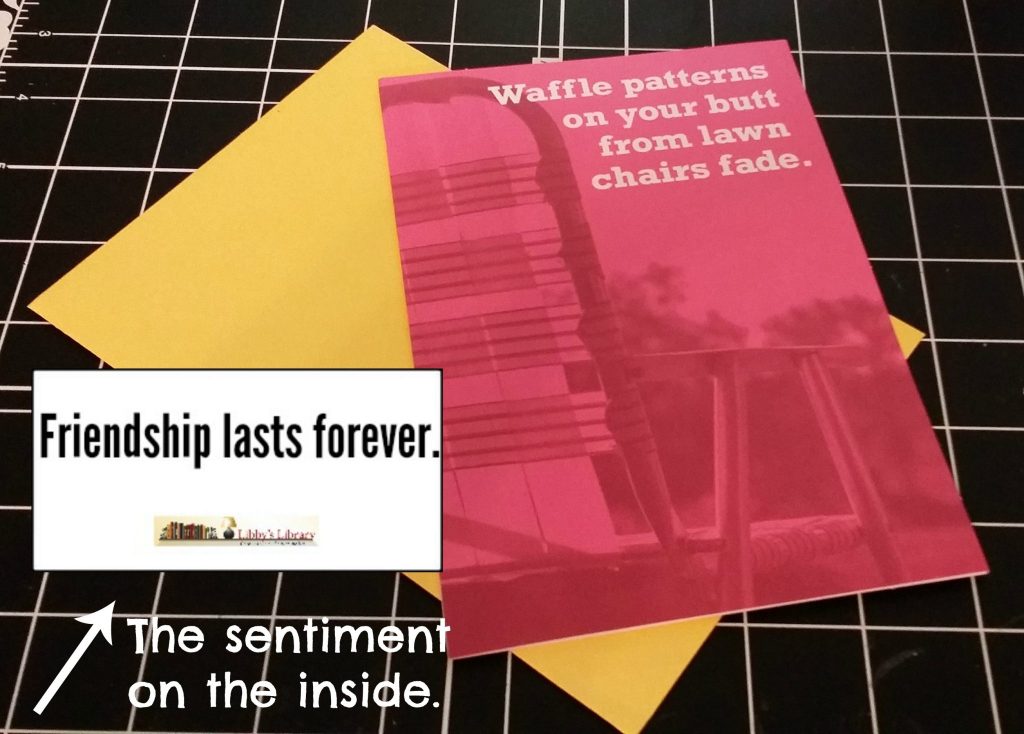 And the last one for today is another great one from Maxine that reflects both mine and my husbands  feelings about  fairs, carnivals, circuses and the like!
You can be sure that the next time I go shopping, I'll head to the card section and stock up on more, because they rotate the BuzzWorthy cards so that there is always fresh content to choose fro
m.
Don't miss out on the fun…be sure to check out Connections from Hallmark and to see great content from other bloggers.  Join in the #TrendyCards conversations on Twitter.
  Oh this is soooooo gonna date me, but here is where I store all my cards. I've had this for years and years.
So tell me, who would you buy and BuzzWorthy card for, and where to you keep your greeting cards?