Make Valentine's Day Sweet – Food and Tablescapes!
Make Valentine's Day Sweet – Food and Tablescapes!
Valentine's Day a celebration of hearts, candy and flowers. Here are a couple of ideas and recipes for your special someone/s. I love putting together scrumptious tables of goodies and it's always easier with the help of friends. For a Valentine's gathering I asked my friends to help me with a collection of sweets that would rival any bakery.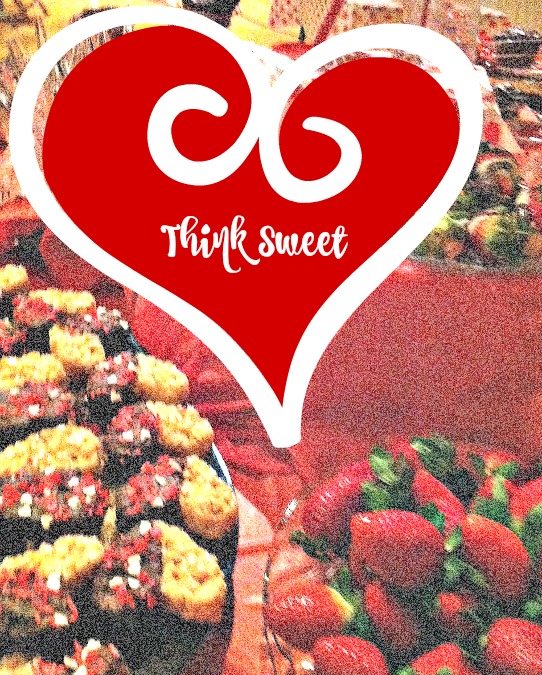 To make things simple I asked everyone to bring a favorite small bite recipe. It could be cookies, brownies, candy, cupcakes….anything small, sweet and yummy. They didn't disappoint. I made a few things and put the tables together using dollar store finds.
Red – The Color of the Day
Tables were covered in lots of red: red table cloths, red hearts, red plates, red polka dot napkins and red hearts. I made simple rose topiaries from dollar store silks and placed them atop tall column shaped vases.
White Chocolate Mini Cheesecakes
Prep time:
Cook time:
Total time:
Ingredients
2- 8 ounce packages of cream cheese room temperature
⅔ Cup sugar
4 Ounces white baking chocolate
¼ Cup heavy whipping cream
1 Tablespoon flour
2 Eggs
1 Teaspoon vanilla extract
1½ Cups crushed chocolate wafers
Fruit for topping
Instructions
Yield: Approximately 24
Line cupcake pans with cupcake liners. (Foil liners do best.)
Divide and spread wafer crumbs into each cupcake liner and slightly press into place.
Break chocolate into small pieces; combine with cream and melt in microwave safe bowl for 20-30 seconds, stir well.
If chocolate hasn't melted completely place back into microwave for additional 15 second intervals (stirring after each) until completely melted. Set aside.
Beat together cream cheese and sugar until light and fluffy.
Add eggs and vanilla, mix thoroughly.
Add flour and melted chocolate; beat well.
Pour mixture into cupcake pans covering cookie crumbs.
Bake at 325 for 10-14 minutes, or util the mixture becomes opaque.
Allow cheesecakes to completely cool then place into refrigerator for at least an hour, allowing cheesecakes to fall. Top with favorite fruit and serve cold.