The OttLite: A Crafters Dream
Disclosure: This product was received from OttLite for review purposes only. All thoughts and words in this post is my own and I was not paid to endorse it. I am only voicing my opinion about this product.
I'm an avid crafter.  I do papercrafts, work with silk flowers and I've recently gotten into beading and jewelry making.  My eyes aren't what they used to be AND I tend to work at night.  This means that I need good lighting in order to see what I am doing. So, I was super excited when I found out that OttLite was sending me a 22w Ultimate Mag and Storage Station!
This baby is absolutely awesome.  The organizer in me fell in love with the storage capabilities.  There is a space for just about everything that I use when making dangles to add to Pocket Letters or planners.
Favorite Tools
Most Used Beads
Jewelry Findings
Sssssh – Chocolate
And More
About OttLite
We combine natural daylight OttLite illumination with smart features like storage, flexible necks, USB ports and more to easily direct and deliver the ultimate lighting experience. From novice crafters to expert quilters, executives to students, there's an OttLite for everyone!
My old eyes fell in love with the natural light and get this…the magnification! Just lift the top and voile…a "5 inch 1.75x optical-grade glass magnifier surrounded by a Powerful 22w circuline tube."
Details


Powerful 22w circuline tube surrounds 5-inch 1.75x optical-grade glass magnifier
Handles and a flexible neck allow easy positioning of lighted magnifier over your work area
Built-in flip cover protects lens from dust and scratches when not in use
Weighted base features 3 levels of storage and dual alligator clips on flexible arms for an extra set of hands
2 extra deep pockets for scissors, rulers, brushes, etc.
6 deep pockets rotate around base for easy access to pliers, pencils and other tools
4 removable trays with 2 different size compartments and rounded bottoms make storing and grabbing even the smallest supplies easy
Bulb included. Rated to last up to 10,000 hours (Replacement bulb type L)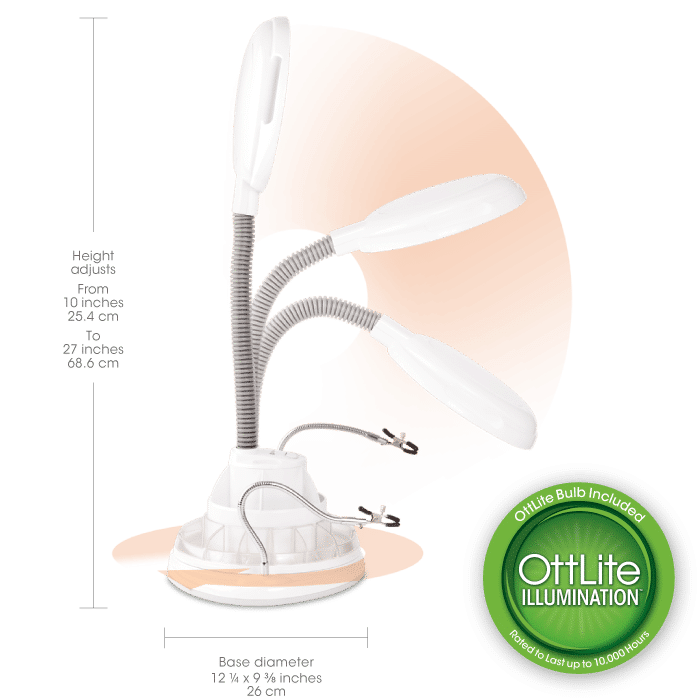 I honestly could not be more thrilled with this light.  It's PERFECT in every way. But if you aren't a beader, that's ok.  It works great for sewing, model building, fly tying, and just about any other work where you need good light and magnification.
The size is just right for desktop use.

Check out OttLite's wide range of products – there really is a light for every need.
Floor Lamps
Decorative Lamps
Table and Desk Lamps
Lamps for Reading
Lamps for Office
Lamps for Beauty
Lamps for Travel
Learn More and Connect with OttLite:  Website | Facebook | Twitter