Prefense / Alcohol – Free Hand Sanitizer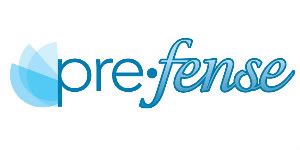 From the Company:
Finally, a unique, alcohol-free hand sanitizer that provides you
and your family proactive security from germs that can make you sick.
Prefense
proactively and persistently offers protection from bacteria and fungi including
strep and many more for up to 24 hours or 10 hand washings without reapplication.

• No alcohol! Prefense is made of all-natural organic ingredients and has absolutely NO alcohol in it!
• Our technology protects you for 24 hours or 10 hand washings!
This is what moms really love to hear about!
• Prefense is non-toxic and safe for kids! It will not hurt you if swallowed!
• Prefense is silica based which means it doesn't dry out your hands like traditional alcohol sanitizers. It actually smooths and softens your hands. You can totally see this when you apply it!
• Prefense protects against staph, strep, E.coli, drug resistant MRSA strains, and more.
We fight germs that other hand sanitizers can't.
• Because "one spray lasts all day" our 1.5 oz Prefense Foaming Hand Sanitizer offers 120 applications, costing only $.08 per day, compared to $1.20 per day with alcohol hand sanitizers.
My Review:
I received a bottle of Prefense for review, and I must apologize to the company
for the delay in my post. All of you know about my medical issues,
and my often, disjointed brain…
but I sometimes forget to remind my "sponsors".
The sample that I got, was for 120 applications (1.5oz.).
The bottle is made of very sturdy plastic, with a lid that snaps on tightly.
(Perfect to keep in your purse or diaper bag – I've kept mine
in the back pack that I use whenever Gabe and I go out.)
One pump, produces an application of creamy white foam hand sanitizer,
which to me, seemed virtually scent free.
Once I rub it in well, it feels sticky for about 3 seconds,
but then the feeling goes completely away,
and leaves my hands soft – not dried out at all!
Since it's non-toxic and safe, even if swallowed,
I've been using it on Gabe's paws.
Yes, I know – dogs lick everything, so what's the use – right…
this isn't so much for his benefit, but for mine.
His paws touch so many (really dirty) surfaces when we are out.
One of his jobs is to alert me to different things,
and one of the ways that he does this, is by placing his
paws on my lap, or on my hands & arms, thus transferring
every germ he's been in contact with, to me.
When we get into a restaurant, as soon as we are seated,
I just reach for the bottle, pump once, and then rub int foam
into the pads of his front paws. Then, one more pump for me:-)
I should probably carry Prefense business cards with me,
as I've had people comment on our table manners –
cleaning our hands/paws before meals – LOL.