Disclaimer: Beautiful Touches has received products from Iron Flask to facilitate this posting, which is part of our Gift Ideas and Buying Guides publications. No monetary compensation has been exchanged.  All opinions are those of the author.
Can't think of what to give as gifts for this holiday season?  I've got a suggestion…Iron Flask.  I love these and have a cupboard full of them, AND. I've giving them as gifts to family this year.
Iron Flask for Iron Solid Gift Giving this Holiday Season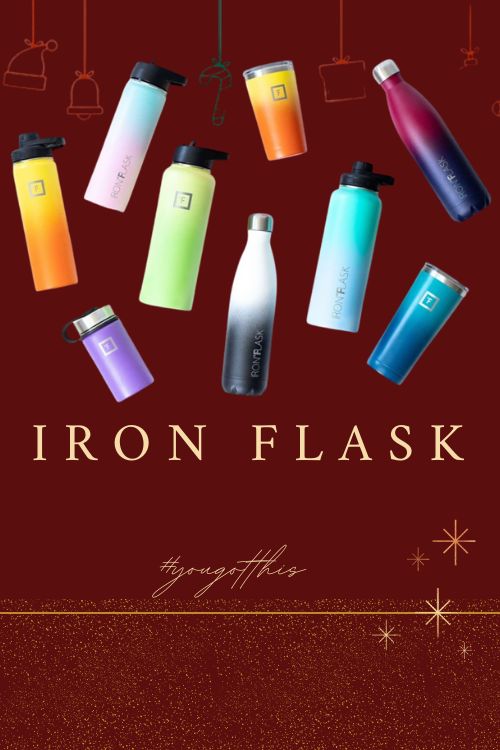 These are not your ordinary run of the mill water bottles – NOPE!
These beauties (and they are gorgeous) are top of the line.  Made from stainless steel, with a double wall of vacuum insulation. They will keep your drinks cold for up to 24 hours and your hot drinks hot for up to 12 hours.  And when I said gorgeous I meant it.  Each is powder-coated which gives them vivid elegant color and makes then easy to hold on to. Easy to care for and they will hold up to regular use!
Info from Iron Flask
Beautiful Insulated Stainless Steel Water Bottles

If you're looking for a high-quality water bottle that will last a lifetime, Iron Flask has everything you need to stay hydrated throughout the day. The top choice for premium quality products and customer satisfaction, our stainless steel water bottle with double-walled vacuum technology is built for durability, optimal function, and sleek design. Shop our water bottle product line today and discover why customers rave about the Iron Flask experience.
And, I really like a website that makes it easy to shop.  Iron Flask does just that.  Shop for Water Bottles or Tumblers (and you can also shop for additional accessories) from the Menu at the top of their website.  Then, from the dropdown menu, you can choose the size you are interested in.  So, here is an example.  I chose 32oz. Tumbler, and this is what came up.  It shows what comes with the tumbler, all the colors that are available, and this is so awesome…if it is cup holder friendly.  Yep, you will know if if will fit in a standard cup holder in just about any car!!!!
Tumblers are available in three sizes: 16, 24, and 32  ounces.
Water Bottles come in both Wide and Narrow Mouth selections and your choice of straw lids or spout lids.
With so many options to choose from, you're sure to find the perfect water bottle or tumbler for your needs. High quality, beautiful products, and a price that I think is about as good as it gets!
Head on over to Iron Flask and take a look around.  Order a tumbler or water bottle for someone on your gift giving list, but make sure you get one for yourself too!  Let me know which is your favorite.
Learn More, Follow, and Shop Iron Flask: Website | Facebook | Twitter | Instagram | Pinterest
Iron Flask for Iron Solid Gift Giving this Holiday Season