St. Patrick's Day – Subtle wearing o' the green?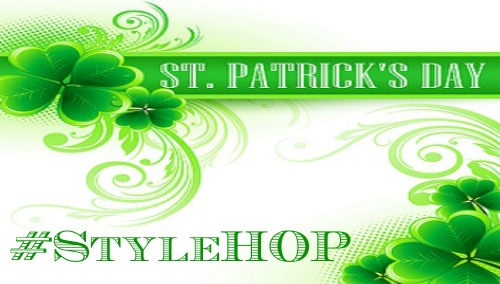 While St. Patrick's Day is great fun, most areas of the country don't get a day off on the holiday. I'm part Irish, but even before I knew that I had Irish roots, I always wore a bit of green on St. Patrick's Day, mostly because if you didn't, you got pinched at school. Sometimes it was a very small bit of green because I would forget to wear a green shirt or pants and have to improvise by putting on a sticker or grabbing a leaf to put in my pocket. Nowadays school has been replaced by work and how far you can go to show your spirit?
Subtle wearing o' the green.
Before Madonna wore her bra on the outside of her clothes, people were more into subtlety.Today we can have a whole lot of fun with green fingernails, hair etc., but what about those situations which call for something a bit more dignified. Do you have to be in court, at a conference, at a funeral?  Well ducky, you've come to the right place. Here are a couple of items that even the stuffiest of individuals won't find offensive.
Seriously, with the right accessories, you can show your Irish anytime! I have a friend who is half Irish and half Chinese. I think that the lovely little number (below) is perfect for her. Green jade is a great way to a accessorize a very conservative outfit.
Okay, okay, your saying, "this is just a jewelry show. Is she selling this stuff?" Not yet, but if I do, I'll be sure to let you all know. Green is just one of those colors that doesn't look that great on everyone, so my suggestion is to represent with your jewelry, or a scarf. Something small can make a statement; you know "less is more."
Technically speaking, I think that Hawaii has the most remarkable display of green. It seems that Pele (the goddess of fire) created a green beach from volcanic sand on the big island. It's true, if you don't believe me, Google it. It's a beautiful color, similar to a peridot.
Larger pebbles make beautiful jewelry, perfect for a Hawaiian loving Irish gal who is crazy about lime green, celery green, mint green, forest green, kelly green, puce, chartreuse, you name it.
Pictured left is a gold pineapple filled with green volcanic glass, next to a peridot. While structurally dissimilar, their color is almost the same. Alright, so much for the science lesson. The point is, that both look great on! They're shiny and bright, and while neither are from Ireland they both wear beautifully.
So whether you're Irish or not, you can still celebrate the holiday and have some green fun. Be as wild or as subtle as you want, just remember Pele isn't Irish, but she doesn't like it when people take any of her green, beach that is. Enjoy the day!
For more St. Patrick's Day posts, visit a few of my favorite bloggers:
St. Patrick's Day – Subtle wearing o' the green?